Café Gabrielle
Probably one of the things that I love most about Paris is its café culture. It might surprise you to know that in the late 1880s there were some 42,000 cafés in Paris, whereas now there are a mere 7000. Yet that still means there is almost one on every corner.
When I arrived in Paris recently, I went to a nearby café to wait until my rental apartment was ready. It was lunchtime when the cafés are frantic with activity as business people flock to take advantage of their two-hour break for "le déjeuner!"
I was right off an overnight flight and while my body may have been transported at an alarming speed across a big wide ocean, my brain was still somewhere over Newfoundland, so dragging my bleary self, suitcase in tow, into a cramped and high-spirited environment was a little intimidating.
However, those feelings disappeared when the owner of the café warmly shouted from across the bar, "Mesdames! (I had come to Paris with my closest friend), "Bonjour et bienvenue!" And within seconds, a smiling waiter was by our side leading us to a small round table by the window! Perfect.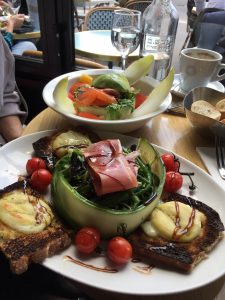 See insert of what we ate for our first lunch in Paris! A smoked salmon salad with avocado, and little toasts with melted Gruyère cheese accompanied by an arugula salad topped with jambon de Bayonne, or French prosciutto. 
Très Très Yum at My Paris Café
This began our relationship with Café Gabrielle –  a friendly café/bistro that embraces you, named after the owner's daughter apparently, located at the corner of Avenue des Villiers and Rue Jouffroy d'Abbans in the 17th arrondissement.
It became ground central for our daily life. We went there for our morning coffee, or lunch just before we tackled more of the sites, and for the occasional dinner when we were too tired to cook or eat out somewhere farther away.
This is what French people do. They have "their café" in their neighbourhood and it is a grounding influence in Parisian life.  It is also the best place for people watching and some days are definitely more interesting than others!
Of course, café culture goes back centuries in France, a setting acting as a living room for its political, social, cultural, and intellectual life. There are famous cafés such as Le Select, Café de Flore and Les Deux Magots where the likes of Hemingway, Sartre and Picasso hung out, but those have such a tourist feel to them now. And take my word for it, the coffee is usually terrible!
Claiming a café of your own is all part of the Paris experience in my view, where it's also doesn't hurt to make friends with one of the waiters.
Some Paris waiters can be aloof and superior but not so with Miquel. We looked forward to seeing Miguel who always served us with a smile, often stopping to chat for a minute or two when things were slow. Being a waiter is a highly valued profession in France and Miquel enjoyed being asked for his opinion while making recommendations about wine and the daily menu!  And we always took his advice!
Do you have a favourite café in Paris?
http://www.cafegabrielleparis.com
Red Lipstick is SOOOO French!
Enjoying all things French — Have you read my blog about buying my first tube of Red Lipstick at the most famous Chanel boutique in Paris?
Quite the production.  CLICK HERE to read that blog.
Brought to you by www.womanofacertainageinparis.com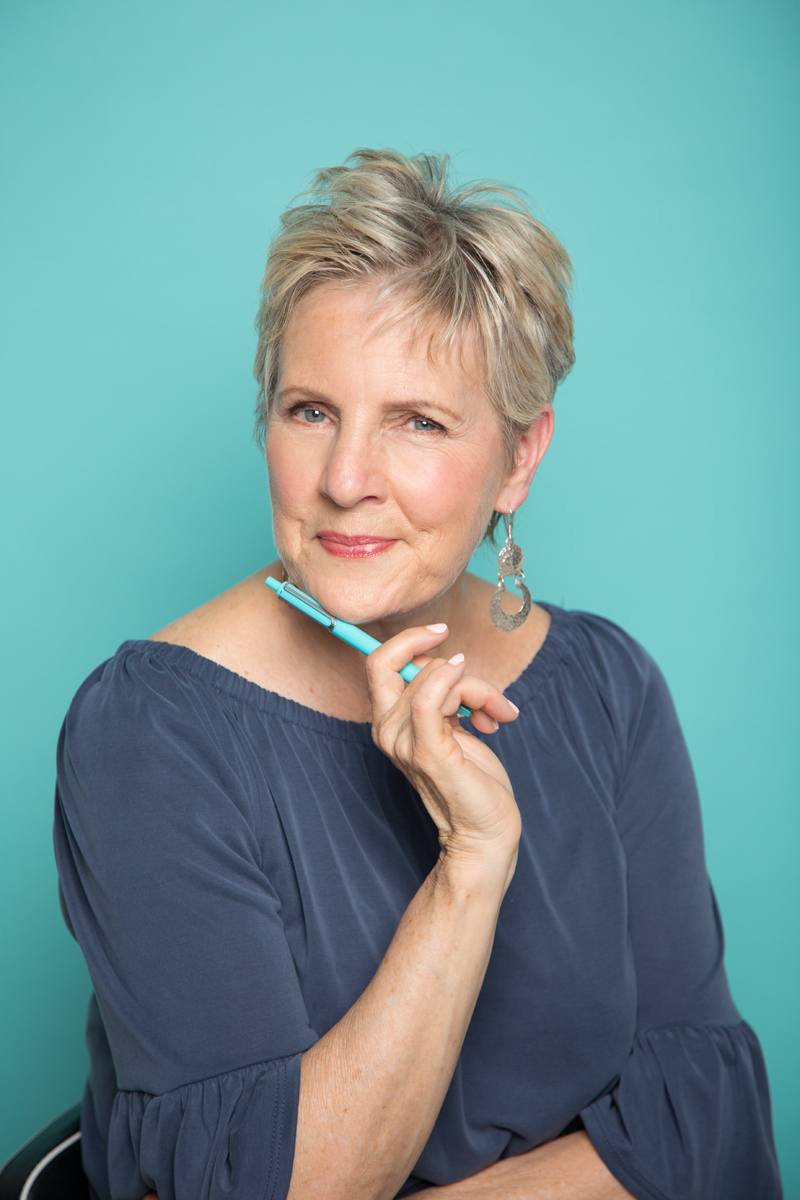 Diana Bishop the founder of The Success Story Program and A Woman of a Certain Age in Paris as well as a well-known correspondent with over 25 years working for CTV, CBC News, and NBC News. She loves travel, writing, and all things Parisienne.