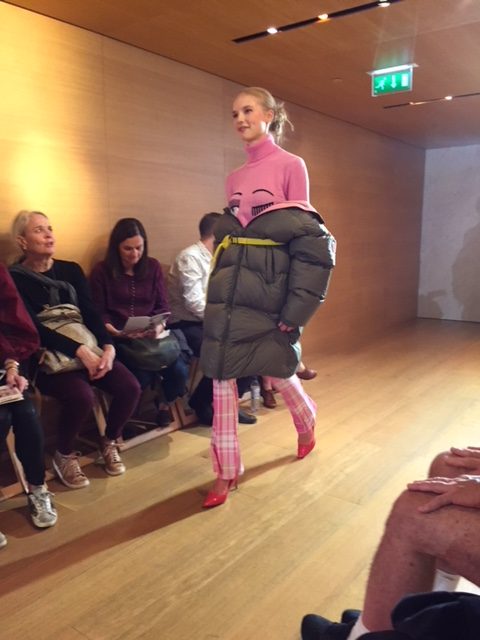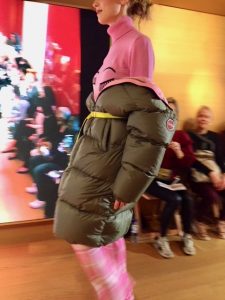 Paris Fashion News: This appears to be the new fashion trend in Paris — wearing your winter jacket off the shoulder!
I admit I am no fashion guru. I do love clothes but it has taken me all these years to figure out what looks good on me and what doesn't. I am not sure I even have a style or what I would call it? Baby Boomer Wanna Be Chic? 
Even so, I am intrigued by fashion the same way I like to watch a film or go to the theatre. I find it entertaining escapism and I don't care if the plot is highly improbable or impractical.  
Paris is (arguably if you are London, New York or Milan) the fashion capital of the world. And Paris Fashion Week (Semaine de la Mode de Paris) is mecca for the fashion elite who make a pilgrimage twice a year, spring/summer and autumn/winter, to see the top fashion houses like Dior, Chanel, Givenchy display their latest collections 
While open to the public, tickets can be costly (up to $1500 USD) if you can even get them. So Galeries Lafayette Haussmann, the elegant Paris department store has stepped in to fill in the gap. The store offers a 30-minute "Ready-to-Wear" Fashion Show twice a week, on Fridays at 3 pm and Saturday at 1 pm. And it is lots of fun. 
Spectators sit on benches in two long rows facing away from each other in the middle of the room, with a few folding chairs on the side, while the models strut current fashions up, back and around the room.  Very informal and up close!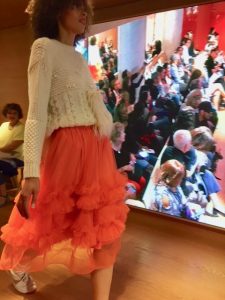 This is where I learned a few things. Current Parisian trends include the textured slouchy sweater, worn with fancy flowing skirts. Incongruent but striking.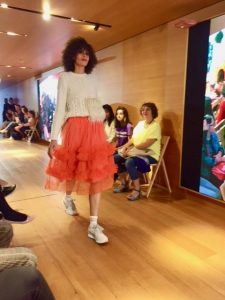 Definitely not something most woman of a certain age would wear (not me anyway) and by the way, we made up most of the audience. Brightly coloured and patterned tights are also de rigueur and so are dazzling sneakers of all varieties!
But I was especially puzzled by the off-the-shoulder puffy coat which I also found displayed the same way in the store. Was this an artistic ploy to market both the jacket and the sweater underneath? Or are the Paris fashion influencers trying to induce a new trend? I could see myself doing this with my coat during a hot flash but…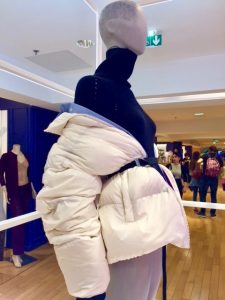 so far, I have not seen anyone wearing a coat in this way on the street or elsewhere.  Please let me know if you do.
Also check out my short VIDEO on my Facebook page of an outfit that I thought might be a nice for the holidays? (Not! Although I love the pink ear muffs.
Tickets: You can order tickets (approx. 14.00 USD/$18.50 CAD) for the Galeries Lafayette Fashion Show on at the Viator website: 
https://ca.viator.com/tours/Paris/Fashion-Show-at-Galeries-Lafayette/d479-14906P3 
Please SHARE my blog with your friends and let them know about my first FREE Giveaway!
For New Subscribers who sign up to my free weekly blog between now and December 15th 2018, I will be having a Draw and the winner will receive a Free Copy of  DRESS LIKE A PARISIAN, a new book by Paris Fashion blogger Alöis Guinut! 
Alöis does consults by the way — in Paris and by Skype. I will be interviewing her in a future blog post.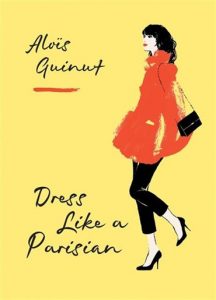 *This promotion is currently only open to Canadian residents.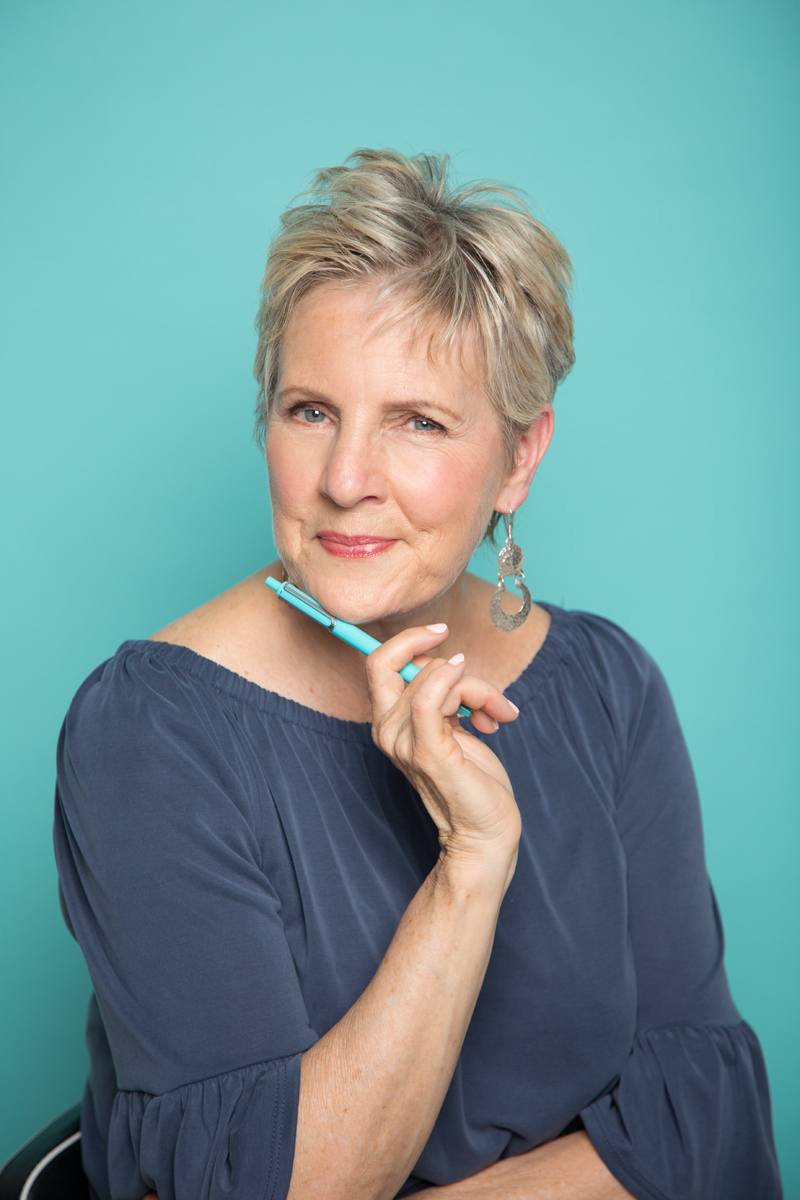 Diana Bishop the founder of The Success Story Program and A Woman of a Certain Age in Paris as well as a well-known correspondent with over 25 years working for CTV, CBC News, and NBC News. She loves travel, writing, and all things Parisienne.