Hop-On-Hop-Off Seine Tour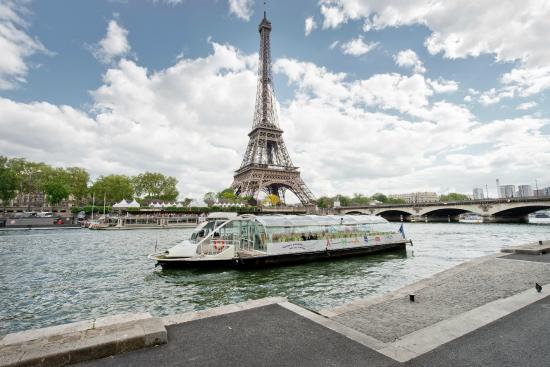 It was not as nice a day as this  the day I decided to take  "Le Batobus."   Similar to the Hop-on-Hop off Bus tour that you find in most cities, this is a boat tour that buses you along the Seine, allowing you to experience Paris both on land and from the water.
In my opinion, it is an absolutely super way to see the city in a day or two no matter what the weather!
Get On and Off at 9 Different Stops
The Batobus stops at the best known locations of Paris, as it cuts a swath across the city from the Jardin Des Plantes on the east side,  to the Eiffel Tower on the west.  You can get on and then off at the various stops for as long as you like, and explore each area at your leisure. There are a number of these boats constantly cruising by to pick you up.
I got on mid-way at Place de La Concorde, the closest location to my apartment.  My Batobus was named after the French actor and singer  Yves Montand, and our guide looked like Tom Cruise.
We are off to a good start!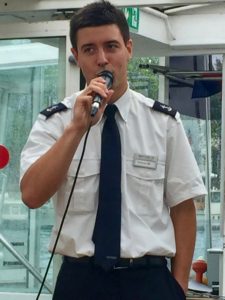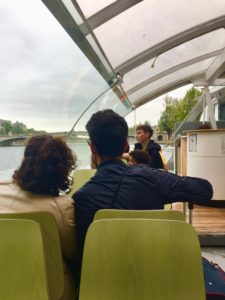 Heading east, it was fun to see Paris from the river and watch people along the banks even in the less than ideal weather (the rain was on and off too!).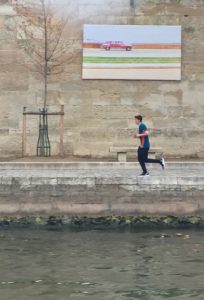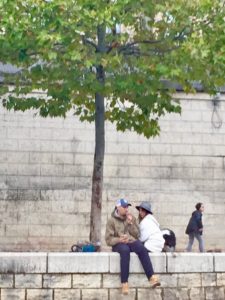 Stop at Notre Dame Cathedral
Debarking at Notre Dame Cathedral is a must.  Especially to see how the renovations are progressing.  I still cannot quite grasp the damage that the terrible fire had on the 800-year-old church. Clearly there are years and years of work to be done but how resilient this structure is!
They are barricades to prevent anyone getting too close but people still flock to take photos.  In and out under umbrellas, this bride and groom were persistent enough to get a shot in front of the church.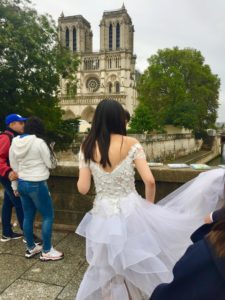 Back on the boat, the rain started up again as we toured past the Louvre on the right bank and the Musée d'Orsay on the left bank.  (I had already done so several times, but if you are only in Paris a few days, a visit to the Musée d'Orsay, the home of many of the Impressionist painters, would be my recommendation! They have fabulous private tours that are definitely worth the price of admission. See below.)
Stop at The Eiffel Tower
It is always a thrill to arrive at the Eiffel Tower, even seeing it through a rain soaked window!
I wandered around the tower enjoying it from all vantage points before finding a cozy bistro for lunch and then hopped back on the Batobus to enjoy the ride back to where I started.
Such a lovely way to spend the day in Paris.
Hop On Hop Off Seine Tour Info
One Day Pass Approx. $26 CAD/$20 USD Two Day Pass Approx. $28 CAD/$21 USD
To see more and to purchase tickets — Hop-On-Hop Off Seine Boat Tour
Musée d'Orsay Tickets and Tours
I recommend if you go, to buy your tickets to this museum online ahead of time. That way you skip the line-ups which can be lengthy.
Even better I recommend taking the guided tour where you will be surprised at what you will learn.
*Thank to my shipmate Peg McPhedran for taking these pictures marked with an*
See more of my blogs at  www.womanofacertainageinparis.com
Disclosure Policy: This site uses affiliate links which may generate small commissions based on clicks and purchases. Any products that I giveaway are personally purchased by me unless otherwise specified. I also write all content on my site unless otherwise specified. And I respect the privacy of my subscribers and do not share their information with any other party or organization.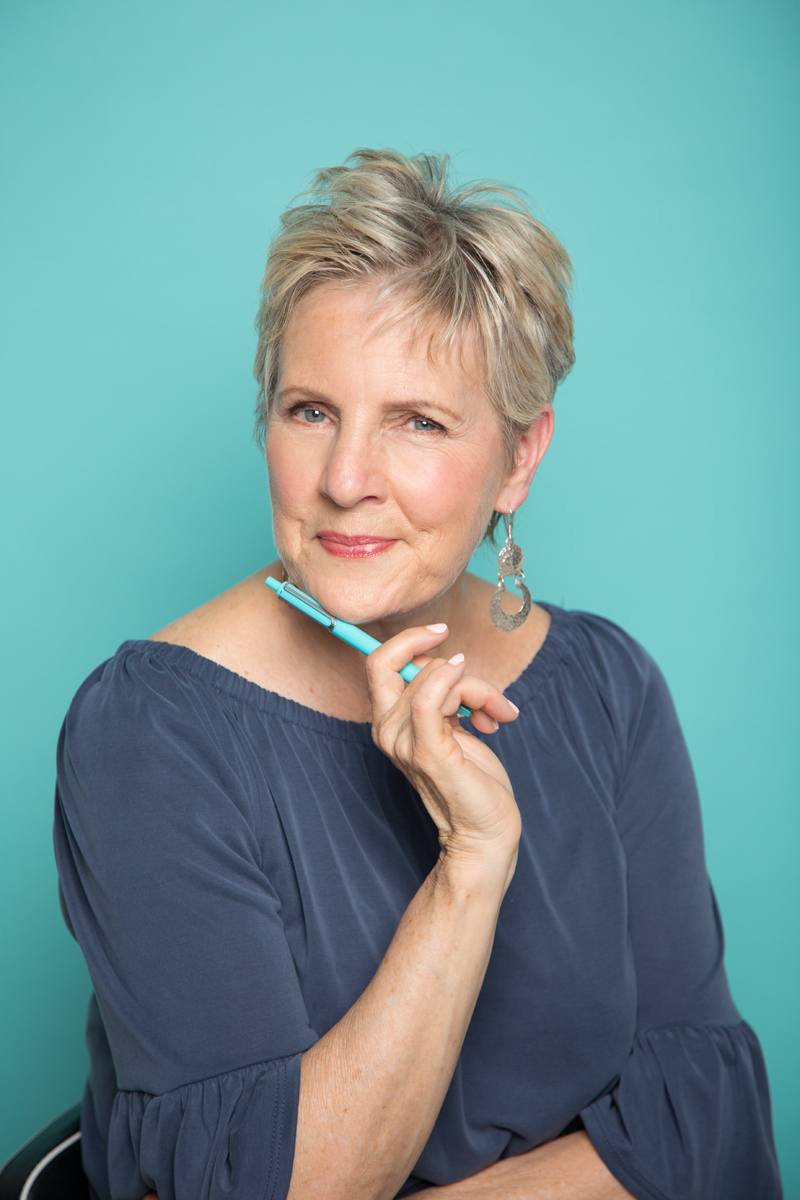 Diana Bishop the founder of The Success Story Program and A Woman of a Certain Age in Paris as well as a well-known correspondent with over 25 years working for CTV, CBC News, and NBC News. She loves travel, writing, and all things Parisienne.