Cooking with Astrid! Diana's Test Kitchen, French Recipe #4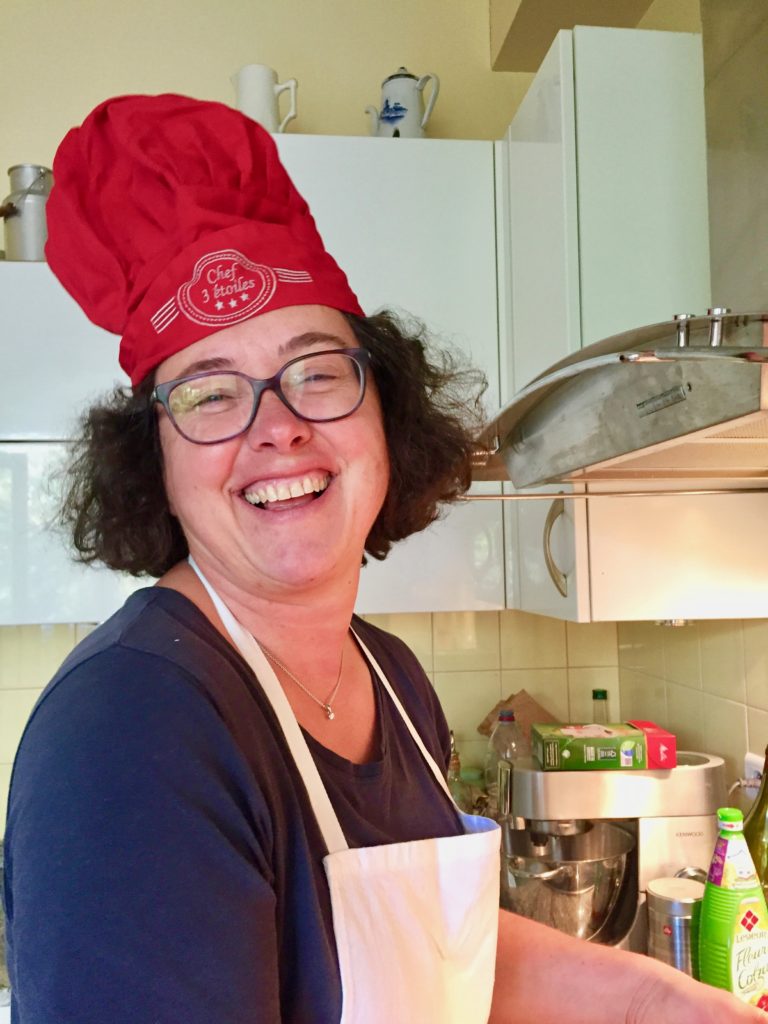 (Note: My Snap Giveaway is today! Don't miss this special offer. Details at the bottom of this blog!)
Meet Chef Astrid!
This fall, my new French friends, Astrid and her husband, Jean-Yves, very graciously invited me to stay at their home in Metz (pronounced Mess).
The charming city in the Lorraine region of France is about an hour and a half by train northeast of Paris.
My Weekend in Metz, France
The couple had organized a jammed-packed weekend for me to best experience the prominent sights of their hometown along with the food and the culture.
In fact, shortly after I arrived, I was treated to an evening of Mozart by their symphony orchestra in the magnificent Arsenal concert hall.
As the name suggests, the renovated hall was originally a store for weapons and ammunition as far back as Napoleon III (!859) until the end of the Second World War.
The next morning, after a breakfast of pastries and strong coffee, Astrid asked me to help her make "Tomates Farcies" (Stuffed Tomatoes)  for lunch.
(I love how the French are always thinking about the next meal.)
Tomates Farcies (Stuffed Tomatoes)
Ripe vine tomatoes from the fall harvest were, naturally, the star of this recipe.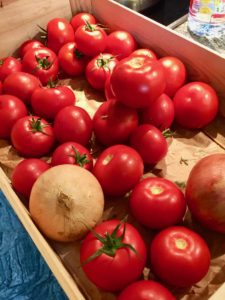 First. Astrid deftly chopped and sautéed onions and garlic in a pan.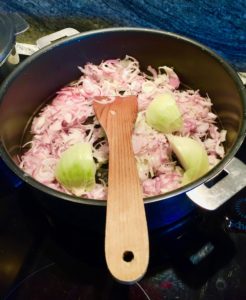 I was put to the task of carefully cutting off the tops of the tomatoes and hollowing out the middles.
The aroma in the kitchen drew Jean-Yves into snap a quick photo of the two cooks.
We created a savoury roux then added the meat which consisted of a combination of ground pork, beef and veal.
Hot over the stove, we chopped parsley and added it to the roux. (Actually we had to rush out to the market because we forget the parsley.)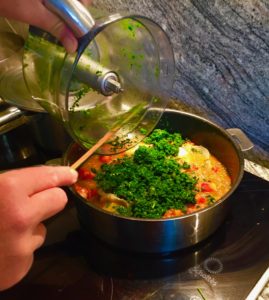 Best part — stuffing the tomatoes.  Then we placed their tops back on and spritzed them with olive oil.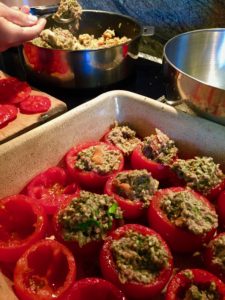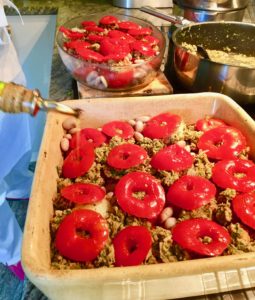 Into the oven for an hour.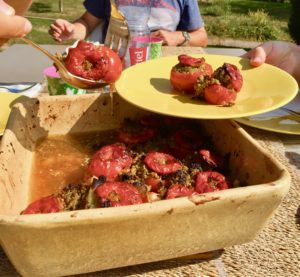 Stuffed tomatoes look a lot prettier before they are cooked, but oh my, even withered and wrinkly – they are delicious!
Once lunch was over,  it was time for a bike ride around Metz.
I was already wondering what we would be making for dinner!
(You will be hearing more about my new French friends and how we met in a later blog.)
Astrid's Tomates Farcies (Stuffed Tomatoes) Ingredients
Vine-Ripe Tomatoes
Onions – Chopped Coarsely
Olive Oil
1 clove garlic, minced (optional — in fact, we forgot to put it in)
1/4 (or more) cup finely chopped fresh parsley leaves
Salt
Freshly ground black pepper
Ground Beef, Pork, and Veal
(This is a great meal on its own and best enjoyed with a crusty French bread to mop up the juices!)
Have you tried this dish? Any variations?  Would love to hear in the Comment Section below.
But Before You Do That!
This is It!
Time For My SNAP GIVEAWAY!
A Free French Lesson with Christine Camm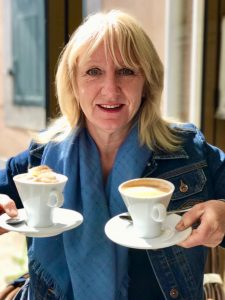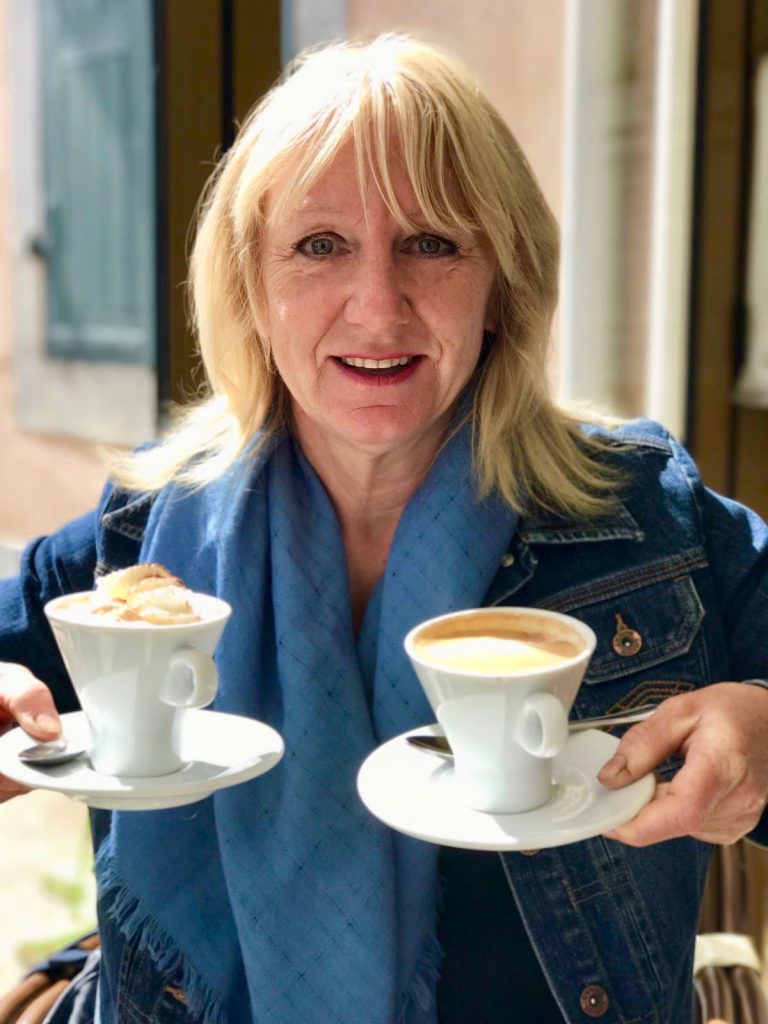 If you read last week's blog, you will know about my Snap Giveaway to win a Free French Lesson with  Christine Camm of simplyfrenchonline.com.
Here's What You Need To Do Now!
Leave a Comment below about this Blog, and also add WHY you think you should be the Winner of this Private Lesson?
It may be simply because you want to practice or improve your French? Did you have interesting experience speaking French to the locals in France that is encouraging you to learn more? Do you have (or want to find) a French lover (pronounced lova… à la Sex In the City)? Are you going to Paris soon and want to learn some key phrases to feel more Parisian?
Whatever the reason, tell us about it. Christine is offering this gift to one of you! She is a great teacher as many of my subscribers will tell you and she can help anyone at any level. Note: There are no strings attached or obligations with this lesson.
And Christine works online with students anywhere in the world!
I will review the comments and make a SNAP decision based on the most interesting comment by next week.
So don't delay and good luck ladies!
Disclosure Policy: I do not derive any commissions in promoting Christine Camm and her services. Any products or services that I giveaway are personally purchased by me unless otherwise specified. As in this case, Christine has offered this lesson at no charge to me.  I also write all content on my site unless otherwise specified. And I respect the privacy of my subscribers and do not share their information with any other party or organization.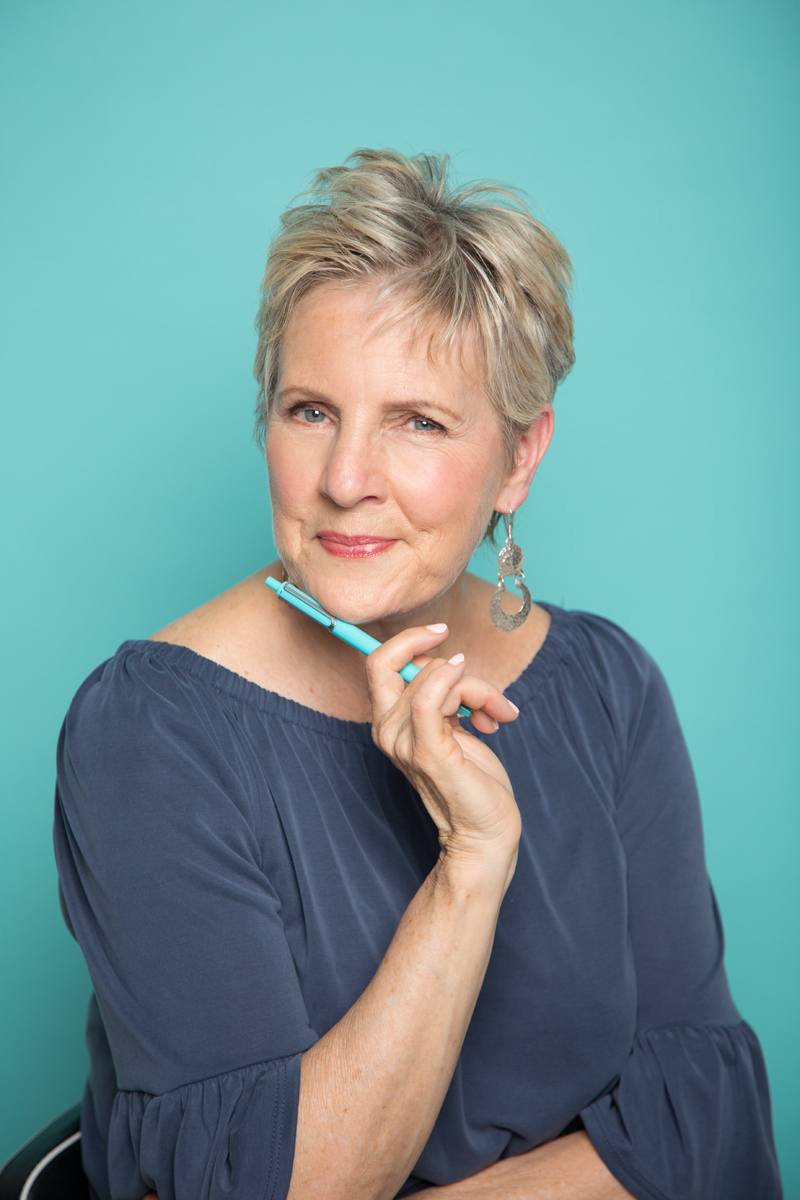 Diana Bishop the founder of The Success Story Program and A Woman of a Certain Age in Paris as well as a well-known correspondent with over 25 years working for CTV, CBC News, and NBC News. She loves travel, writing, and all things Parisienne.