How To Become Parisian in One Hour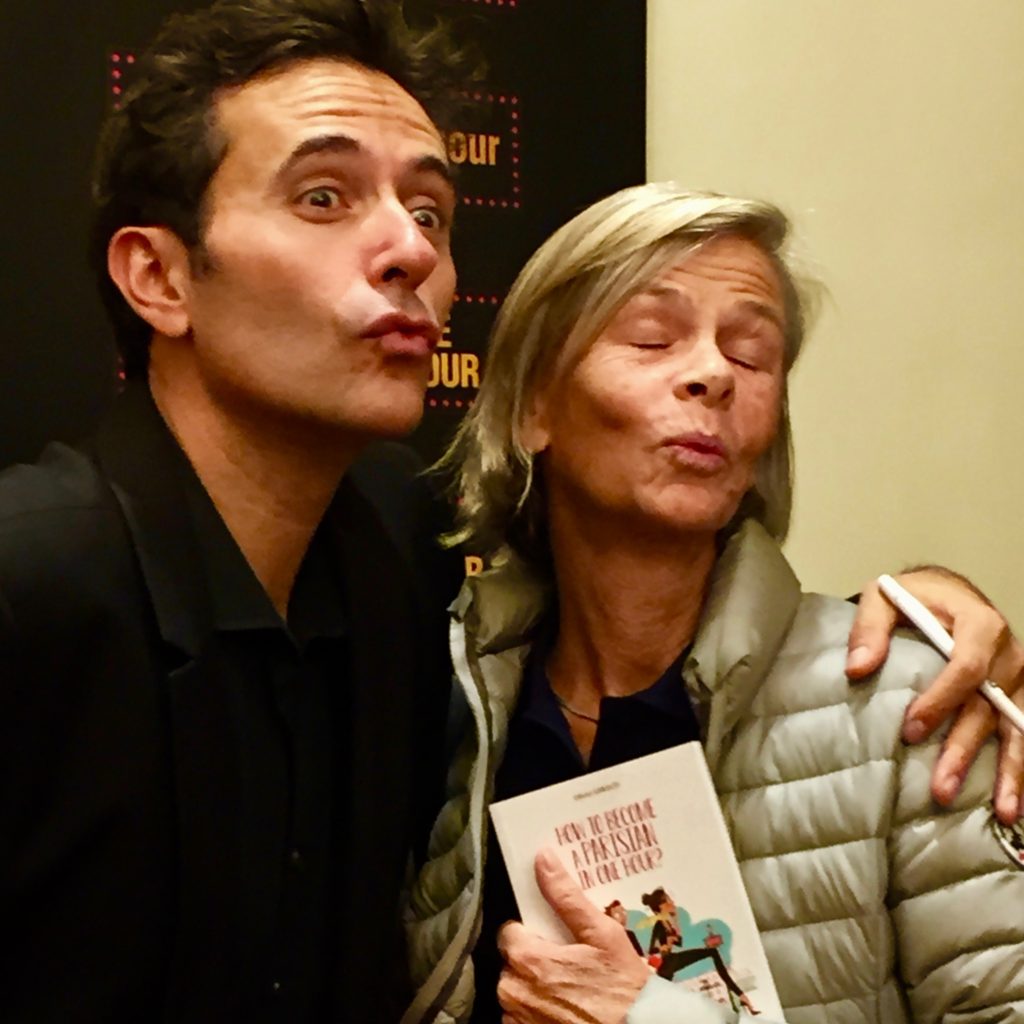 Be prepared to practice your best Parisian Pout when you see the popular comedy show "How To Become Parisian in One Hour!"
This one-man show plays into every cliché and stereotype that people all over the world have of Parisians; as envied for living in one of the most beautiful cities in the world; admired for being stylish and cultured; but also criticized for being rude, snobbish and grumpy.
And it's true that tourists often say they feel that Paris is a city that they can embrace, but Parisians, not so much.
So, with heaps of material to choose from, French comedian Olivier Giraud has put together a show for tourists (in English) to help us exorcise our Parisian-phobia by learning instead how to emulate them.
Parisians pout, Giraud says,  because they simply have only one facial expression for every emotion.
Sad? — they pout. Happy? — they pout. Skeptical? Well, for this they might raise their left eyebrow, because Parisians are skeptical of everything.
Giraud himself is not lacking in facial expressions to demonstrate. He has the 600-seat audience laughing out loud despite his exaggerated generalizations.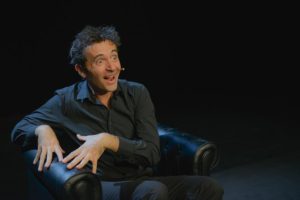 And some of his tips are useful.
If you want to dress like a Parisian woman — wear black. (This makes  packing easy.)
If you dream of living full-time in Paris — stop it! The average apartment is the size of your mud room, and costs as much as a three bedroom house with a swimming pool and acres of land where most of us come from, and probably doesn't have an elevator.
If a waiter is rude to you — look like you don't care, or better still, use the pout.
The pout is definitely worth practicing.
Footnote #1: This show is literally an hour long, which by the way has nothing to do with anything except that you can see it a 8 pm and still arrive on time for  your reservation for dinner afterwards. Because if you are Parisian, you would never dream of dining out before 9 pm!
Footnote #2: In 2013, the Paris Chamber of Commerce launched a campaign, to help overcome the reputation that Parisians are unfriendly (After all they noted, 10 percent of employment in the city comes from tourism), distributed 30,000 pamphlets with tips on tourists' likes and dislikes, and lessons in visitor languages — skills that might help that French waiter be just a little nicer.
Footnote #3: My own experience with Parisians is that they are initially skeptical of outsiders, not prone to engage, and have a disdain for overt displays of enthusiasm, but overall, if you need help, they are very accommodating. And the waiters — they indeed seem much friendlier than in the past.
The Female Version Of This Show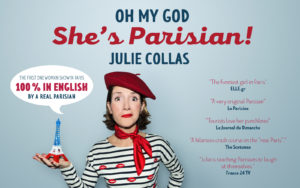 There is another version of this show from the French women's perspective! On my list of to-dos. Looks like fun too!
Tickets are approx $27 US/$35.80 CAD
Announcing The WINNER(S)!
Thanks to all of you who left such wonderful comments last week about WHY you might want to win the FREE French Lesson Giveaway!
In fact, Christine Camm of simplyfrenchonline.com was so impressed that she has graciously decided to offer TWO Lessons instead of just ONE!  Woo hoo!
So here are the names of Two Winners.
Winner #1
One Lesson goes to Monica Campbell. Monica's daughter and son-in-law have moved to Paris.  Monica will be joining them there for the holidays.
Here is what she wrote:
"When I was a teenager in Belfast N Ireland, schooling at a convent high school, French was one of my best subjects and despite the fact that this goes back to 1965 , I have always maintained my interest in this most beautiful language. My promise to myself was that when I retired I would take French lessons. Who would have known that my future held a move to Canada where French is as important as English and also that my only child would end up living in Paris? This has to be good karma. Now is the time — my one and only grandchild is learning French at the age of 19 months. Nana has to keep up with him…what more can I say?"
Winner #2
The second lesson goes to Trudy Van Buskirk from Toronto.
Here is what Trudy wrote:
"I'm 69 and can't travel any more because of a debilitating stroke I had in 2005 – so I LOVE reading your posts and seeing your pictures. My paternal grand–mère was named Corinne Tetreault. She was born in St. Jean Quebec. I guess I have always been enamoured of French – in fact my BA from Western University is in French!!! Since I can't travel, I just want to brush up my French so …."
So, now you can Trudy!
Congrats ladies! Both of you touched us with your stories! Enjoy your lesson!
Lessons with Christine
French Lessons with Christine
Even if you did NOT win this time, you might still be interested in what Christine has to offer. She has a number of different programs to help you learn or improve your French.
You will never regret expanding your life by learning another language! https://www.simplyfrenchonline.com
Catch up on other blog posts at www.womanofacertainageinparis.com
Disclosure Policy: This site uses affiliate links which may generate small commissions based on clicks and purchases. Any products that I giveaway are personally purchased by me unless otherwise specified as in the case of these French lessons which were offered free of charge by Christine for this Giveaway.
I write all content on my site unless otherwise specified. And I respect the privacy of my subscribers and do not share their information with any other party or organization.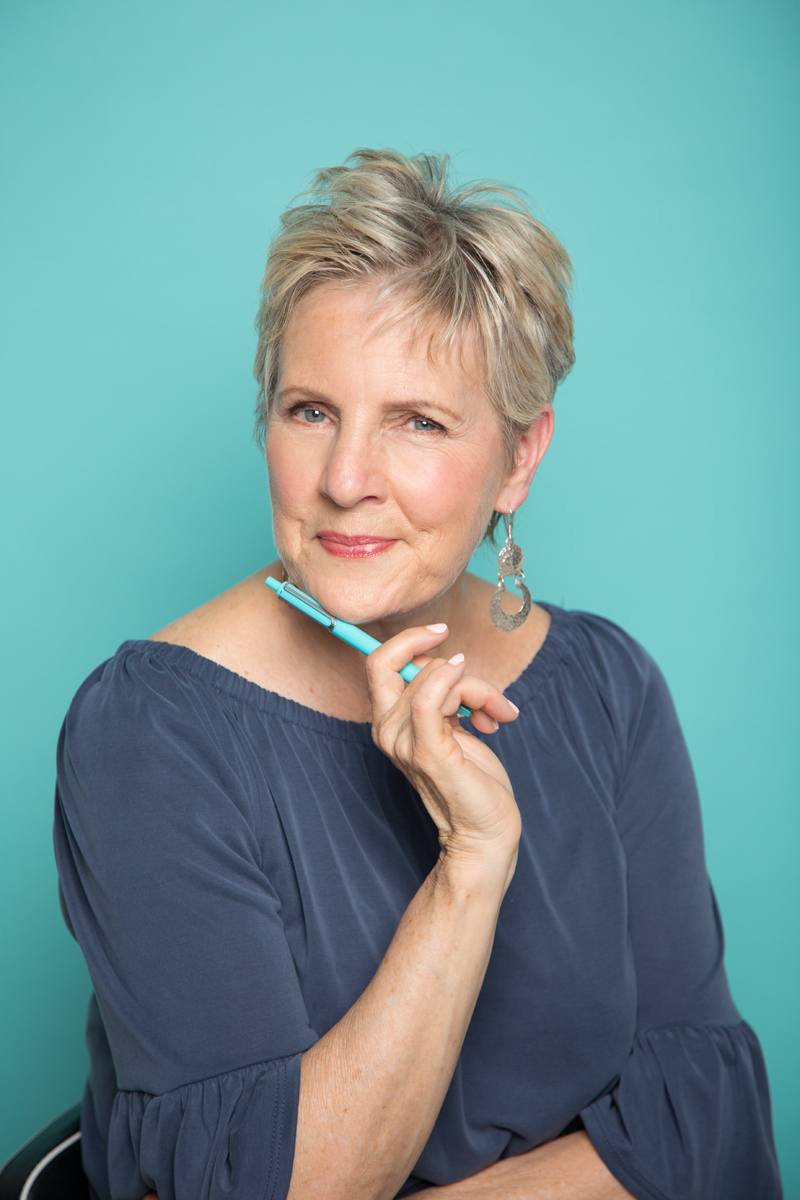 Diana Bishop the founder of The Success Story Program and A Woman of a Certain Age in Paris as well as a well-known correspondent with over 25 years working for CTV, CBC News, and NBC News. She loves travel, writing, and all things Parisienne.