With The Click of A Heel!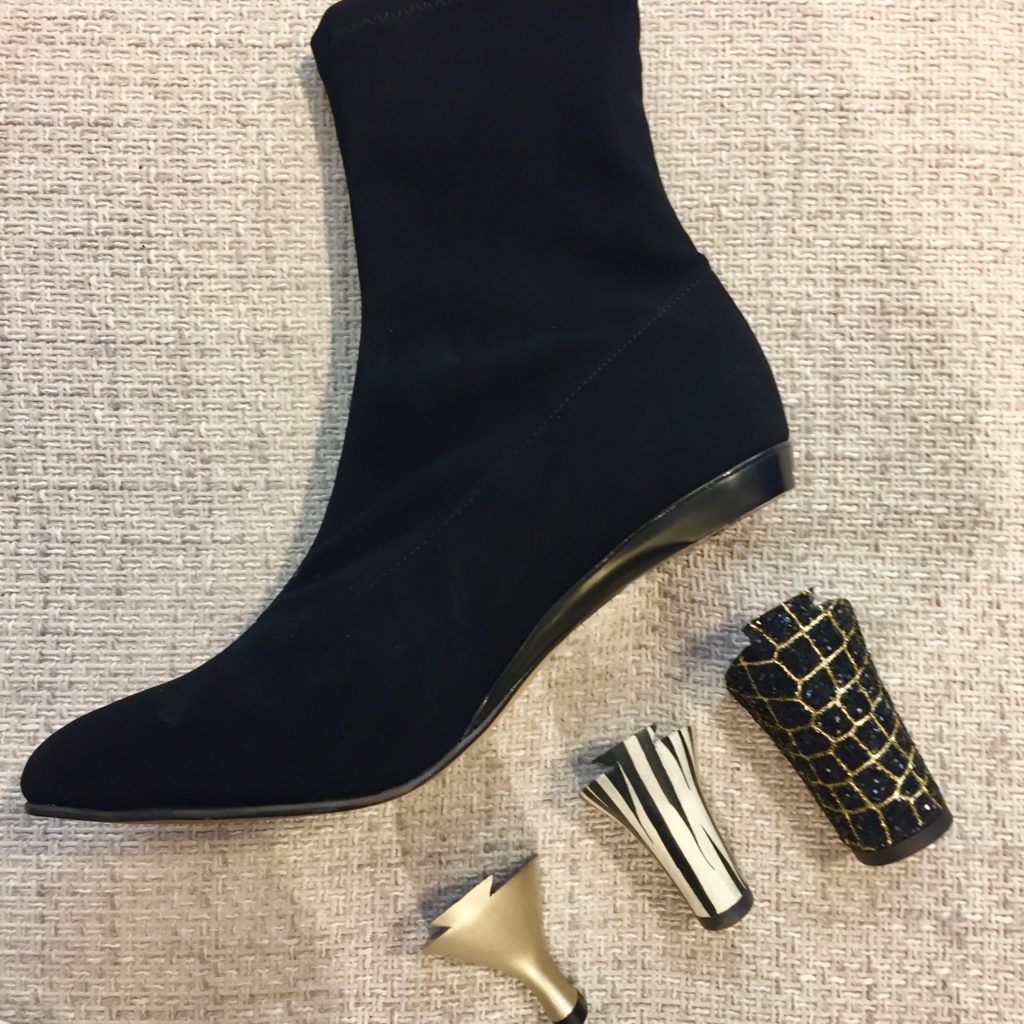 Stepping inside Tanya Heath's boutique in the St-Germain-des-Prés district of Paris is like a trip to the candy store.
Especially if you are someone who love shoes!!!  (I know one of my best friends Lizzie Gilbert is already salivating!)
One is drawn to the shelves displaying her elegant footwear; pumps, sandals and boots.But what really takes your breath away are the two walls of exquisite interchangeable heels of varying colours, designs and heights.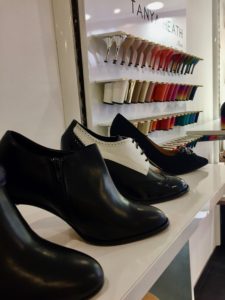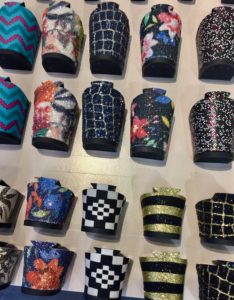 When I arrived the owner herself was attending to a customer from Mexico who was thrilled to be getting Tanya Heath Paris originals*, because what Tanya has done is revolutionary.
She is the inventor of footwear with removable and interchangeable heels, and also the first person in the world to sell heels as an accessory.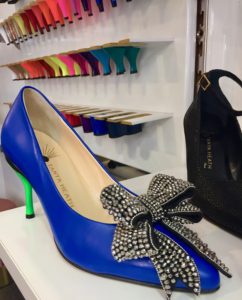 I can't begin to describe how much fun it was to first select a pair of shoes, in my case, a pair of black vegan slip-on boots. Then start trying out the heels of which there are over 300 to choose from.
I felt like a child playing dress-up.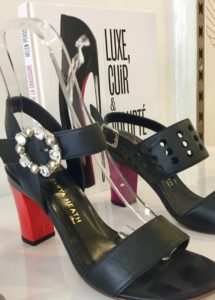 It is remarkable that Tanya has been able to engineer beautiful but also comfortable footwear that can switch from a 4 cm walking heel to a 6.5 or 8 cm high heel with the click of a button.
The fashion possibilities are endless when you consider that one pair of shoes can be transformed from work to travel to party wear and everything in between.
But being the Dyson of footwear has not been easy. Tanya is an innovative disrupter in an entrenched industry that wants women to keep buying lots and  lots of shoes — many of which we end up wearing only a few times.
Still, her following speaks volumes. Tanya has 27,000 loyal customers around the world.  One of them, a woman from Texas, bought a pair of shoes from Tanya five years ago, and then recently came back to update them with some new heels.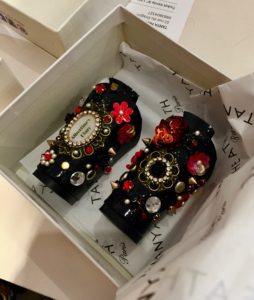 I can see doing that with my new boots!
(FYI, I got three pairs of heels of varying heights — silver, a gold design and a zebra pattern which I love.)
Read more about Tanya Heath's collection on her website.
And you don't have to go all the way to Paris to buy her shoes and heels.
She sells them online too.
Don't forget to change the prices into the appropriate currency!
BUT … if you ARE going to be in Paris, I know Tanya would love you to pop by.
She is located at 22 Rue du Dragon in the 6th arrondissement where there is plenty of other great shopping.
Her boutique is also just around the corner from the two most famous cafés in Paris  — Café de Flore and Les Deux Magots!
*The Mexican lady bought a pair of white boots (below) and 5 different kinds of heels!
Follow Tanya Heath on Instagram at #tanyaheathparisofficial
Missed a few of my blogs? Check them out on my website at www.womanofacertainageinparis.com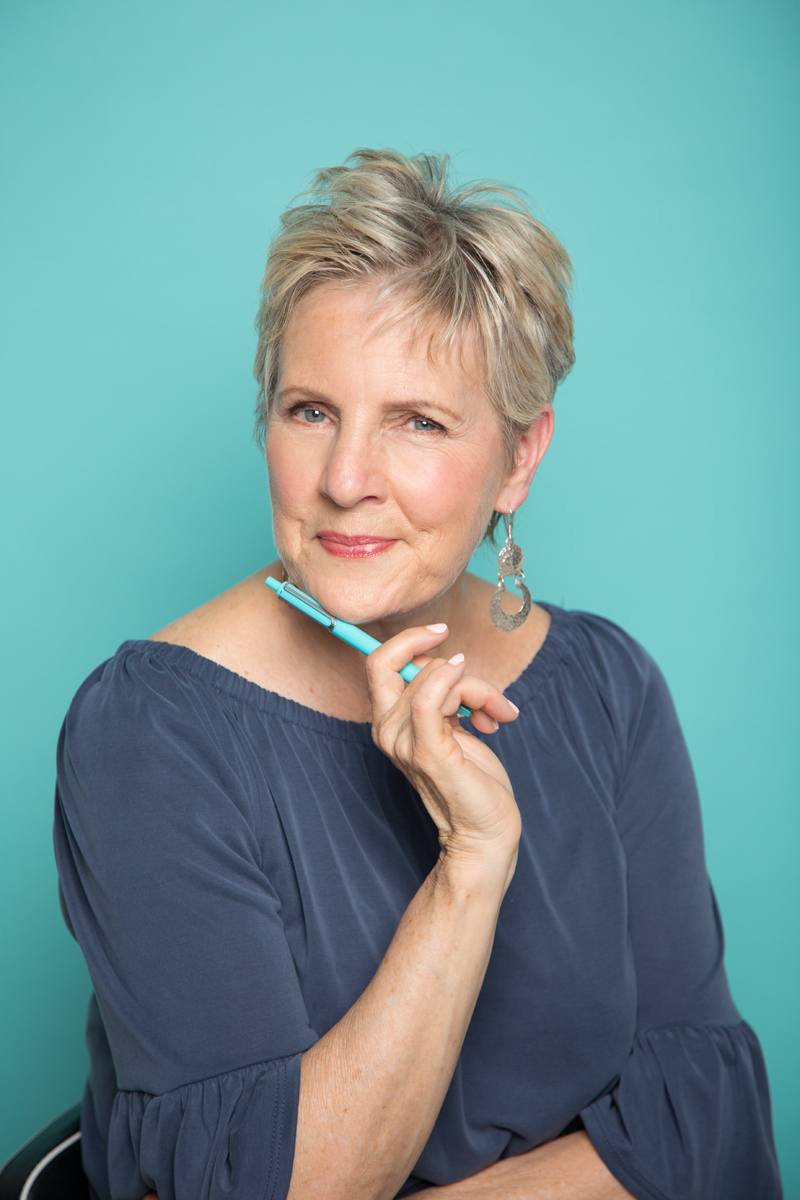 Diana Bishop the founder of The Success Story Program and A Woman of a Certain Age in Paris as well as a well-known correspondent with over 25 years working for CTV, CBC News, and NBC News. She loves travel, writing, and all things Parisienne.