If I Could Take A Walk in Paris…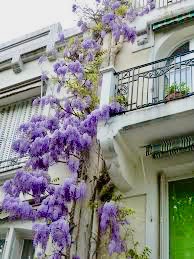 Whenever I am in Paris, I often just like to  meander.
When I decide to take a long walk,  I head in a certain direction and see where it takes me.
One day I headed north from my apartment in the 9th arrondissement crossing over Rue de Clichy walking up hill into Montmartre.
I could have turned right and followed the multitude of tourists crowding the cobbled streets towards the famous square with all the artists, Place du Tetre.  I could have kept walking to the left around to the dominating white dome of Sacré-Coeur Basilica, but instead I did the opposite.
I went the other way along Rue Norvins.
The tourists thinned out as the street becomes Avenue Junot which wends down in a gentle curve toward St. Vincent cemetery.
Avenue Junot, Montmartre (18th arrondissement)
You know when you come across a place where you are overcome with emotion.
It's as if it is already familiar even though you have never been there before.
It gives you a feeling of well-being, almost euphoria, grounding you, pulling you deeper into yourself.
That's what happened to me on Avenue Junot.
It is not like any other street I have seen in Paris — It is a residential neighbourhood with towering leafy trees that form a canopy over this street oozing with sophistication and elegance.
There are very few people about. Only a few patrons sitting quietly in the one restaurant called Marcel's and it too has an understated glamour.
Villa Léandra
And oh that corner! It is the beginning of a small road, a cul-de-sac called Villa Léandra — where there are real houses with iron gates, front gardens and flower boxes.  Hard to find in Paris.
Hôtel Particulier Montmartre
I spy what I first think is a very grand three-story home. I find out later  it is the Hôtel Particulier Montmartre, offering five incredibly designed suites each starting at a mere 522 Euros a night.
There is a bar and outdoor patio, and I promise to go back for their High Tea one day.
Yes, if I were able to take a walk again in Paris, I would go back to Avenue Junot.
It may not have the same impact on someone else that it does on me. Does it trigger a favorable childhood memory long buried? Or is an assembly of many things I value and that feed my soul?
I am not sure.
But I do know I could happily drown in the feeling I get walking down this street.
Is there a street or place that gives you that "feeling"?  Please comment in the box provided below.
Pearls Are Always A Good Idea!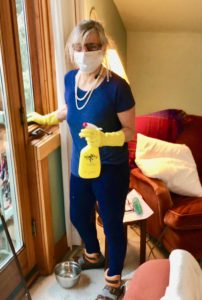 My blog about wearing our pearls was certainly popular and I am still getting pictures.  This one is definitely worth of mention.
This is my dear friend Charlotte who surprised me with this photo.  Normally, Charlotte would be hard at work as an executive coach, fiercely  competing at tennis, or dropping everything to help a sick friend or neighbour.
But cleaning windows?
These are indeed unusual times.
"Yes, I am tackling the mould and I can tell you, the pearls really helped."
(Notice also the leg weights on her ankles! Multi-tasking?)
Bravo Charlotte.  You look uh, well chic!
And COVID invincible.
Please leave your Comments Below! We love hearing from you!
PS — Many of you are sending me personal emails and while I love hearing from you that way too,
I know that others would like it if you shared your comments with all of us
Just follow the instructions to comment at the bottom of this blog.
Thank you for taking the time to do so.
www.womanofacertainageinparis.com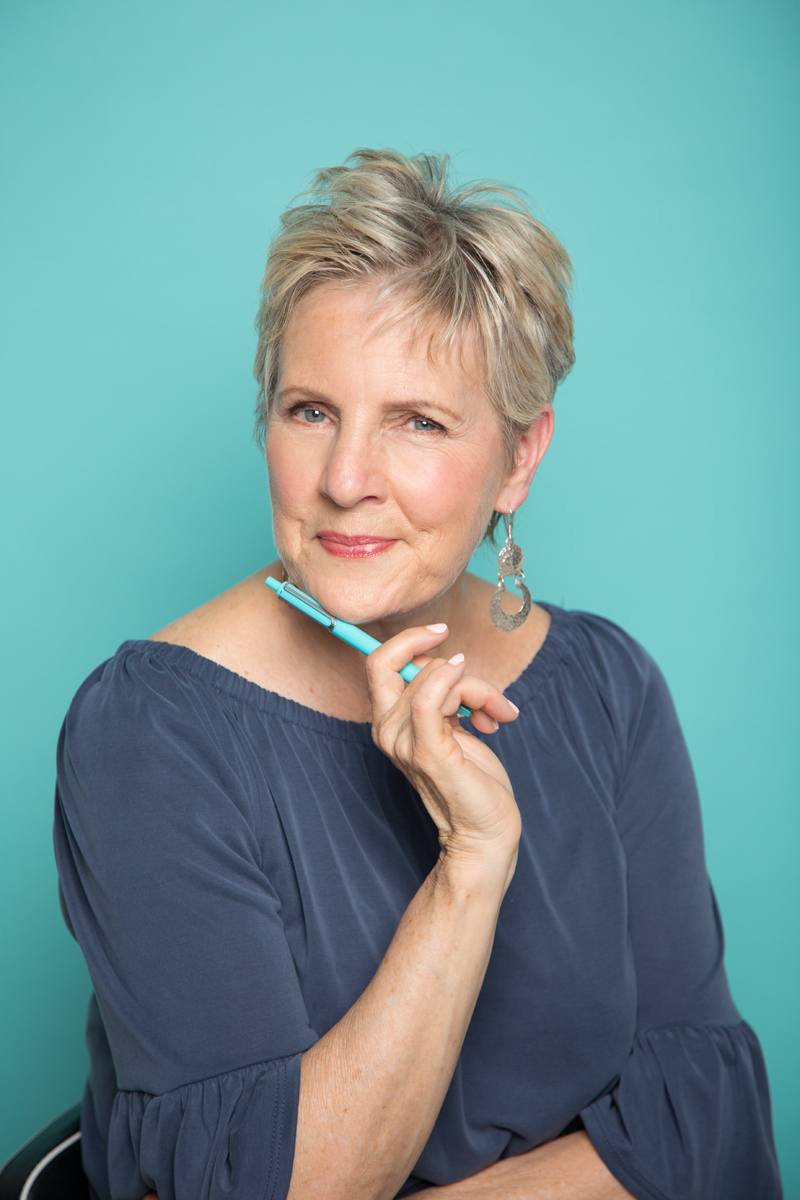 Diana Bishop the founder of The Success Story Program and A Woman of a Certain Age in Paris as well as a well-known correspondent with over 25 years working for CTV, CBC News, and NBC News. She loves travel, writing, and all things Parisienne.