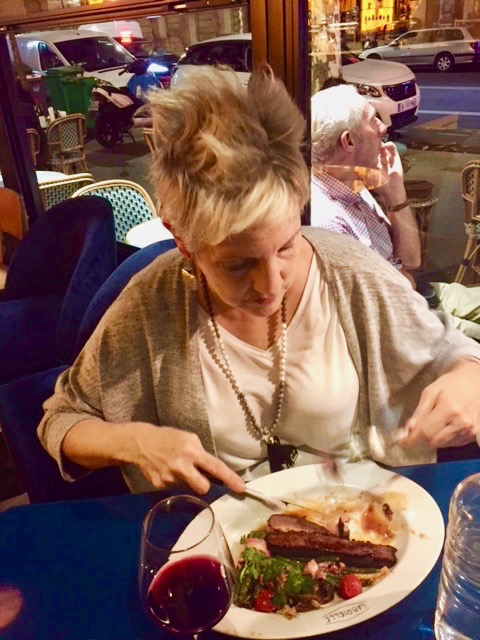 The first time I went to  France I ate my way across the country.
I remember one particular time when I was invited to a family lunch by one of my students.
It was an idyllic French scene. We were about 20 around a large table, al fresco in the countryside.
The first course arrived — three large trays of Escargots de Bourgogne drenched in garlic butter.
Thinking this was the main course, I devoured 16 of these very large snails and at least half a baguette to soak up the butter.
Ok, maybe almost a whole baguette.
Funny how I remember the exact number but I was used to ordering a small appetizer of 6 tiny escargots in a restaurant.
You have probably already guessed the rest.
That was only the first course.  There were nine more to come consisting of charcuterie, chicken, roast pork, lamb, vegetables of all kinds,  numerous salads, cheeses and then desserts, paired with copious bottles of different wines and champagnes.
That lunch which began at noon lasted 5 hours.
Thinking about that day, I am surprised that no one sitting at the table was fat.  Well, maybe our host, my student's father,  had a bit of a belly but considering their access to such rich food, they ALL should have been obese!
I, myself, in the few months that I had been there, had already gained a few pounds…
The North American Versus the French Diet
I grew up with a mother who worked full days and made meals in a rush.  They were filling but not very interesting.  Remember things like sliced white bread, bologna, macaroni, junket, and jello?  And Campbell's soups added to everything?
When I got to France in my twenty-third year and was on my own, I was thrust into one of the world's most refined food cultures, where everything provided a taste explosion.
From almost the first day, I never saw a baguette that I did not like,  a croissant that I could refuse or a sauce that didn't make me want to lick the plate, and sometimes I did when no one was looking.
Within three months,  my 108-pound frame ballooned to 135 pounds.
(I do not regret a single pound, and anyway, I lost the weight when I got home and went back to North American food.)
French Women Don't Get Fat!
Obesity is apparently on the rise in France but mostly among children due to the arrival of McDonald's and other fast food, and not from traditional French cuisine.
Still, in general, people don't discuss their weight or what they should not be eating.
They don't carry water bottles everywhere, obsess about smoothies, or eating kale or quinoa.
There are vegetarian restaurants but I have never heard anyone talk about meat being bad for you.
This would be surprising anyway as they eat pretty much every animal organ in some fashion or another.
We all know this right?
Still, with food and produce of such high quality and taste, why don't the French gorge like I did so many years ago, and sometimes still do?
Portion Control

There is much debate on this subject as habits evolve but I have noticed that the French are more interested in being "satisfied" than being "full."
Taste and quality are supreme, and as a result, one is able to be satisfied with less.
Like that lunch I had way back when, people eat slowly. They take a little of this and that, and give more time to the business of eating.
I like that.
However, left alone and unsupervised with some really good French cheese and salami, and a fresh baguette, I might be tempted to eat myself silly!
French Women Don't Get Fat!
No one has written more about French eating habits than Mireille Guiliano, the author of French Women Don't Get Fat, and The French Women Don't Get Fat Cookbook.
Her premise is that French women love food as much as anyone but it IS all about portion size, taking time to eat mindfully, and walking everywhere.
No one talks about getting their 10,000 steps. It just happens.
Both of these books are great fun!  You can purchase them by clicking on the title links above.
Mireille has a recipe for leek soup that she claims is the ultimate cleanse from overindulging.
You can find that on her website.  Click Here.
Please Share Your Comments Below
I am sure that you all, and especially my French followers, will have your thoughts about this subject!
Please share your comments with all of us below.
Disclosure Policy: This site uses affiliate links which may generate small commissions based on clicks and purchases. These commissions pay for administrative costs of publishing this blog, so I always appreciate it when you purchase through my links.  Thank you for supporting me.
Any products that I giveaway are personally purchased at my own expense unless otherwise specified. I write all the content on my site unless otherwise specified. And I respect the privacy of my subscribers and do not share their information with any other party or organization.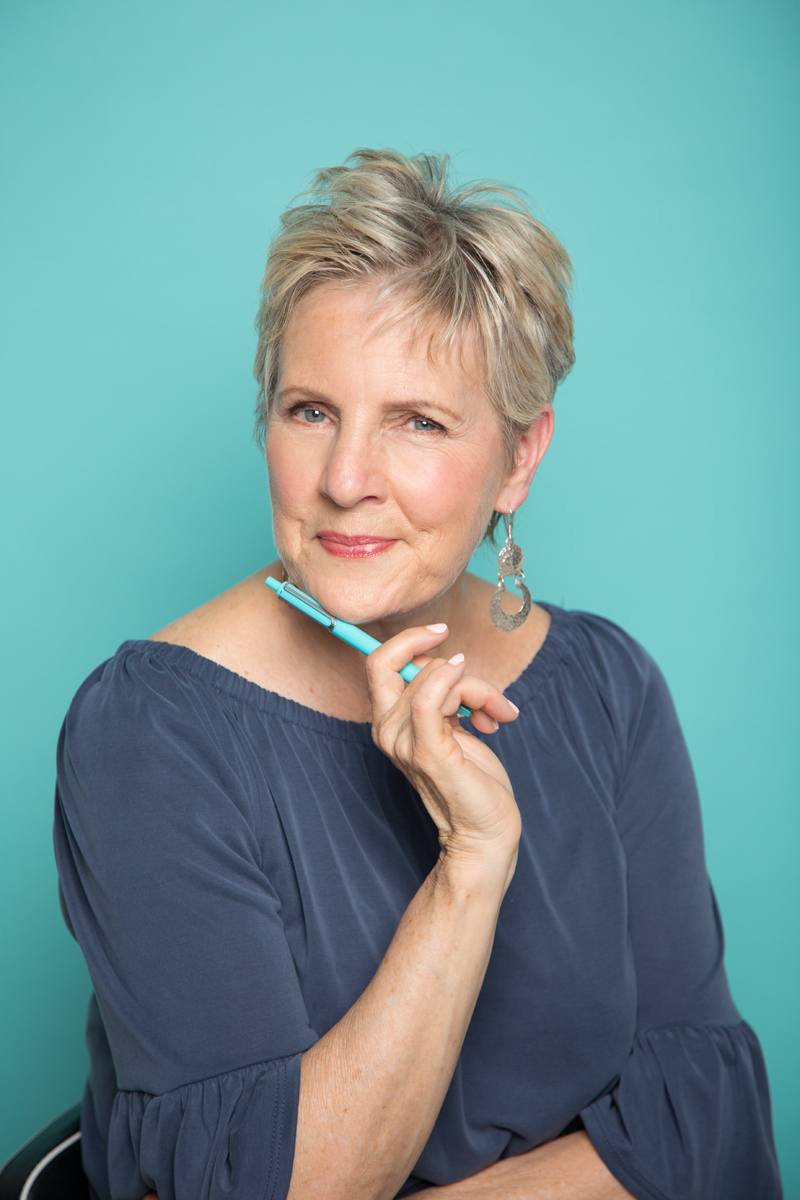 Diana Bishop the founder of The Success Story Program and A Woman of a Certain Age in Paris as well as a well-known correspondent with over 25 years working for CTV, CBC News, and NBC News. She loves travel, writing, and all things Parisienne.