Diana's French Recipe Test Kitchen — Cassoulet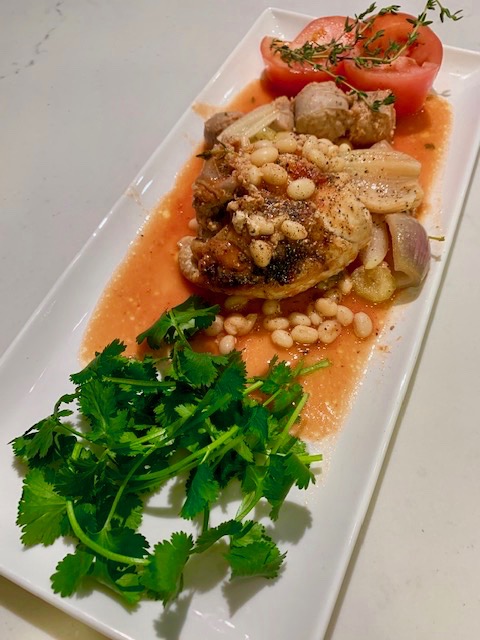 You have probably picked up one of those rotisserie chickens at the supermarket, that frankly, you couldn't make that cheaply yourself.
My friends and I call them "Cheater Chickens," because they are a delicious meal especially when you need something fast for dinner and have no time to cook.
Personally, I am the kind of cook who is a fan of Jamie Olivers 5 ingredients Quick and Easy Cookbook.
If I cannot make something in an hour max., I am not even going to attempt it.
However, as with the other French recipes I have tried and shared with you on this blog,  I have always wanted to make that French country stew, France's winter comfort food, called "Cassoulet" pronounced Cas-sue-lay.
This is a dish heavy on protein and fat.  Hey, it's French after all.  The main ingredients being chicken, duck fat, pork sausage, bacon, chicken stock, a few vegetables, and white beans which is really what makes it different.
While I would really still encourage anyone who can to try the real thing in France, this is the first time that I have made this dish and I am calling mine "Cheater Cassoulet" because I took some shortcuts.
I used canned navy beans instead of soaking the traditional French Tarbais heirloom beans overnight.  I am not sure where I could buy those anyway.
I ditched the duck fat, and instead of using butter to braise the meat, I used olive oil.
"Mais non! Impossible Madame!"
I can hear shocked French chefs (and francophile purists) saying in disgust.
I know.
I am sorry.
But I can tell you, the results were still amazing.
There is a step-by-step process to cooking the proteins, and layering this dish, but honestly, I believe you could put all of these ingredients in a slow cooker and it would come out absolutely delicious.  Try it!
Ingredients that I used…

1 can navy beans
1-quart store-bought low-sodium chicken stock
2 tablespoons olive oil
8 ounces salt pork, cut into 3/4-inch cubes
6 to 8 pieces of chicken thighs and drumsticks, or 4 whole chicken leg quarters
Freshly ground black pepper
1 pound garlic sausage (2 to 4 links depending on size)
1 large onion, finely diced (about 1 cup)
1 carrot, unpeeled, cut into 3-inch sections
2 stalks celery, cut into 3-inch section
2 sprigs of thyme
2 bay leaves
6 cloves of garlic
Kosher salt
Mine again looked like this — yum!
Have you made this?
Do you have another winter dish that you recommend?
Love to hear from you!
Please post your COMMENTS Below!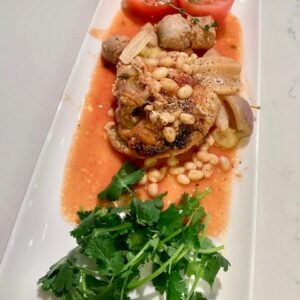 Don't Forget to Register for my upcoming Interview
How To Buy A Château!
with Jane Webster
Owner of Le Château de Bosgouet
TUESDAY MARCH 9TH at 12:30 pm EST/9:30 am Pacific,
6:30 pm in Paris, 5:30 pm in London
Note: There is at least One GIVEAWAY DRAW
with every Interview I do.
Giveaway Draw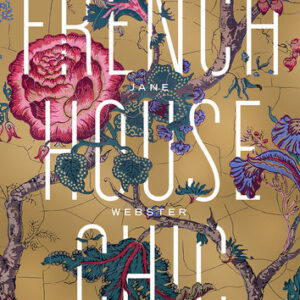 I will be giving away Jane's beautiful Hard Cover Photo-rich Book,
with a retail value of more than
$60 CAD/ /$48 USD/£34
CLICK HERE TO REGISTER
Jane will take us on a tour of some of the château and share this adventure!
Check her out on her website  https://www.thefrenchtable.com.au/
And on Instagram at #janewebsterthefrenchtable (26K followers)
NOTE: Annual members do NOT need to register for this interview.
You are already registered.
NOT an annual member yet?
Click HERE to go to The Virtual Adventures Club to find out more.
NOTE: There is a small administrative fee for this interview. It is posted in Canadian Dollars, and if you are paying in USD, euros, or pounds, you will get the benefit of the exchange rate.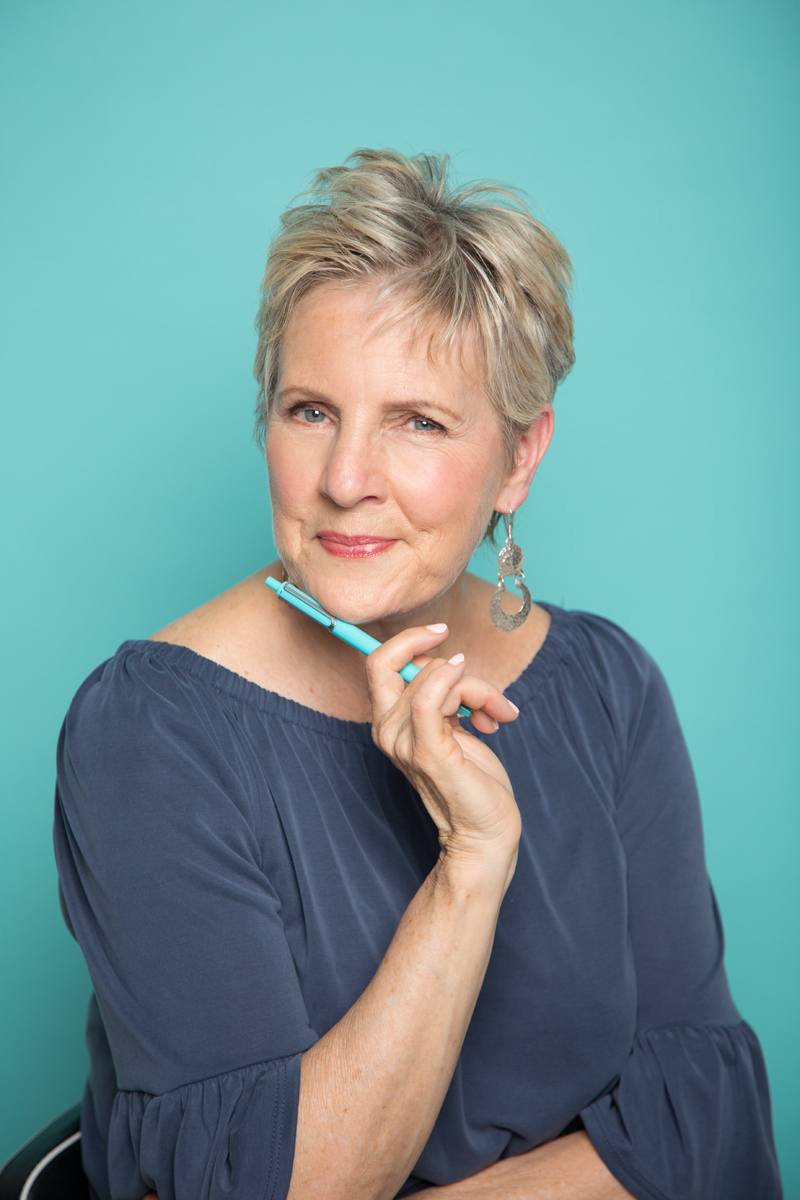 Diana Bishop the founder of The Success Story Program and A Woman of a Certain Age in Paris as well as a well-known correspondent with over 25 years working for CTV, CBC News, and NBC News. She loves travel, writing, and all things Parisienne.