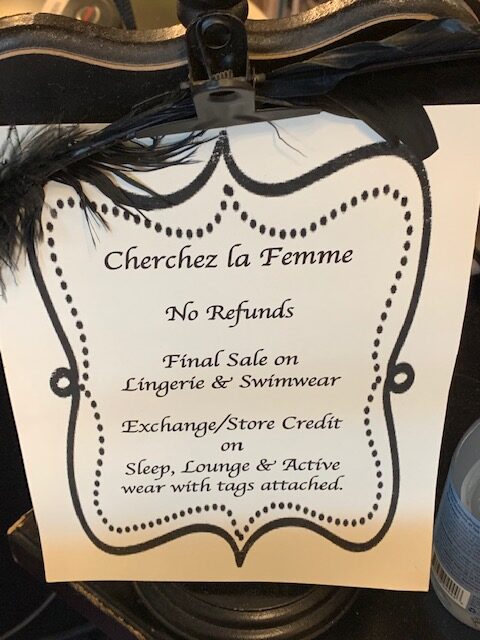 So in buying the right bra…
I am going to expose a little more of myself than I usually do.
And if you are a gentleman reading this, you might decide to go no further …
Because this blog is just between us ladies.
Cherchez La Femme
Summer has been quite wet where I live, and so it was a rainy and humid day that I decided to visit a lingerie store in the next town.
It's called Cherchez La Femme which with a nuanced translation is something like "Looking for the woman in you," appealing, of course, to my French sensibilities and my interest in French Lingerie.
Now, with COVID, I have had every excuse in the world not to deal with clothing, especially undergarments.
After a year and more, the latter is threadbare, the elastics fraying, and the underwires are sticking out ready to poke me in the eye.
No way was I going to order online, so, maybe you can relate — I was in desperate need of at least one new bra!
Many times, in the past, in Paris, I have stood outside a lingerie store, drooling over the blatantly-displayed alluring garments, and have been too intimidated to go in.
But this day on my own turf, I summoned up the courage.
The store doesn't look like much from the outside but inside it is like wading into a sumptuously intimate boudoir.
Lingerie of all kinds screams to be fondled, the fabrics and detailed designs so tantalizing, intended to bear secrets only the wearer knows (and well maybe also one's mate).
I happened to notice on a shelf above the desk was the book "Paris Undressed" authored by my dear friend and lingerie expert Kathyrn Kemp Griffin who lives outside of Paris.
(If you have not read it, get it by clicking on the link above or by reading my blog post called French Lingerie!
Kate was the person who reminded me —
"We wear underwear but French women wear lingerie. In fact, they consider it a most essential part of their wardrobe."
Her book underlines in great detail that getting the right bra and bra size is crucial.
A Bra That Fits!
Like trying on bathing suits,  however, I find it daunting to go into a fitting room and face a full-length mirror.
But the salespeople couldn't have been nicer or more helpful.
There was even a little fan going to keep me cool as I tried on so many beautiful items.
Lo and behold, I discovered that I have been wearing the wrong bra size for … well, forever.
And getting one that really fits me! What a revelation.  Comfortable, with no bits and pieces peeking out where they should not, and a feeling of real support.
Without revealing all — let's just say my new sizing jives with the year that ended Bonnie and Clyde's bank-robbing career, and the worst grade, I mean the worst, you would ever want to get on a test!
Who knew?
Nor will I fully reveal which one I bought.  I settled on somewhere between seductive and demure with some black. Can you guess?
A good bra does not come cheap but a year later I am still wearing this bra and it fits perfectly.
You get what you pay for.
The best part though.
When I wear it only I will know.  Beneath even my jeans and a t-shirt, I will feel like I am exuding a bit of mystery.
I invite your comments, dear readers.
This should be fun!
Please share them with us below.
Dreaming of Provence?
I highly recommend this memoir!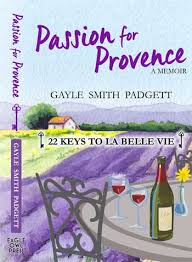 Gayle Smith Padgett, author of Passion For Provence. 
Gayle relates with witty candour and humour how moving
to the charming town of Saint-Remy-de-Provence.
and renting the same house for 11 years
has been the most fabulous adventure,
and how we can all aspire to spend more time in France!
YOu can also learn more about and follow Gayle on her website at https://gaylesmithpadgett.com/
Disclosure Policy: This site uses affiliate links that may generate small commissions based on clicks and purchases in order to support the costs of running this site.  Any products that I give away are personally purchased by me unless otherwise specified. I write all the content on my site unless otherwise specified. And I respect the privacy of my subscribers and do not share their information with any other party or organization.
Brought to you by www.womanofacertainageinparis.com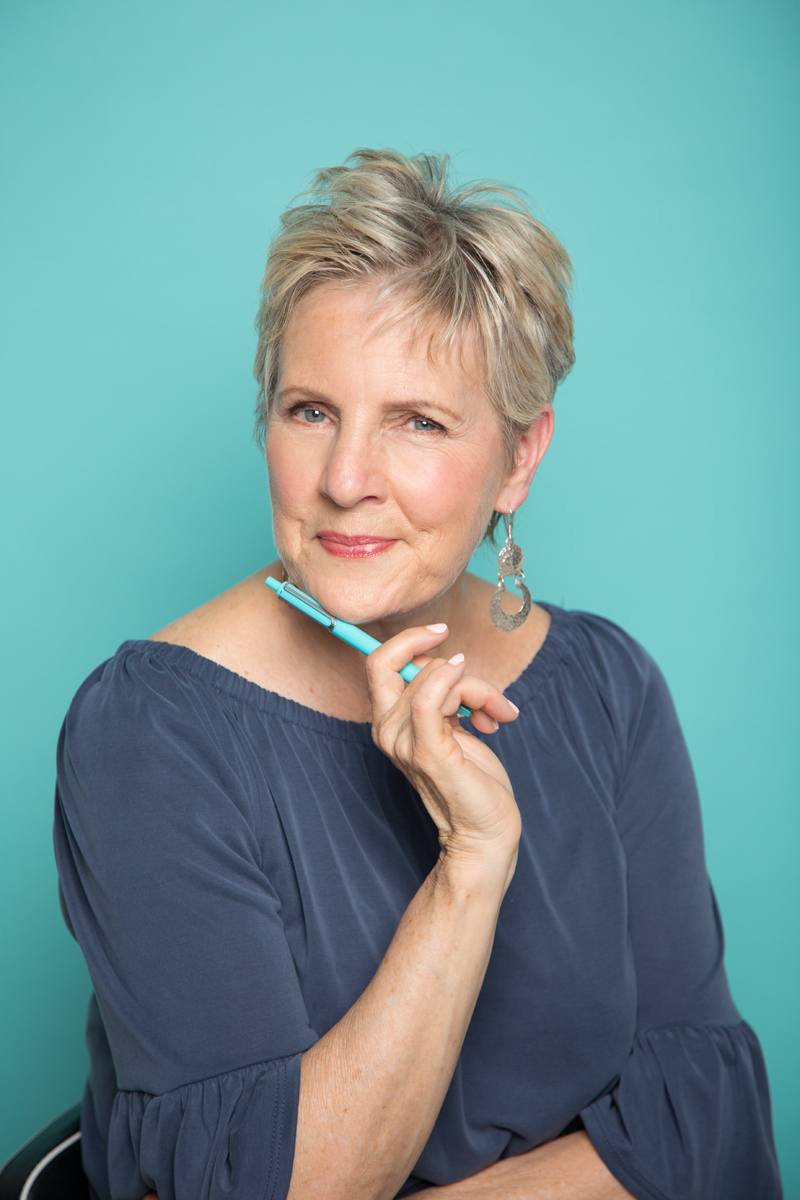 Diana Bishop the founder of The Success Story Program and A Woman of a Certain Age in Paris as well as a well-known correspondent with over 25 years working for CTV, CBC News, and NBC News. She loves travel, writing, and all things Parisienne.