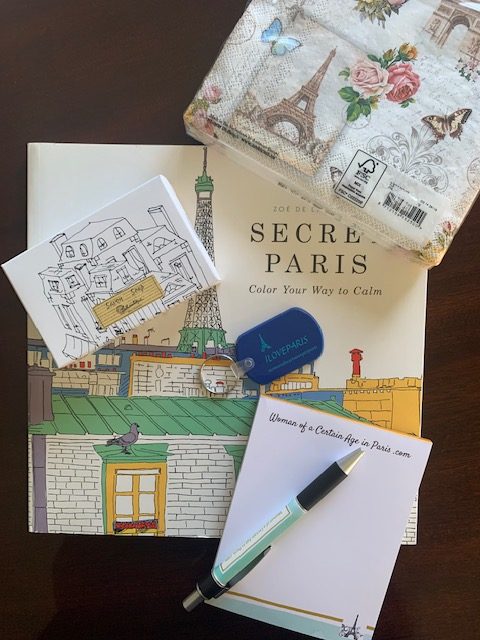 Well, it's that time again!
Every quarter, I GIVEAWAY a really great gift to one of the Annual Members for my Virtual Adventures Club where I interview Women of Global Interest!
This year's series has been all about women doing extraordinary things with their lives in or about Paris or France.
I have had so much fun researching and sourcing my Giveaways, and my favourite is always putting together my own personal French Gift Box!
I look for items that scream femininity and elegance and so here they are!
My French Gift Box (7 Items)
An Eiffel Tour-themed hand-painted scarf or shawl:  This is quite large but so lightweight that you can throw it over a jacket or coat.  I purchased the last one of these. The designer: @Liga Kandele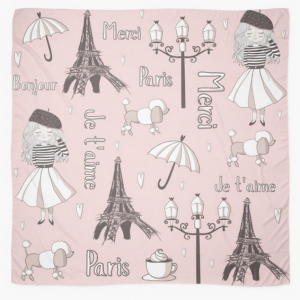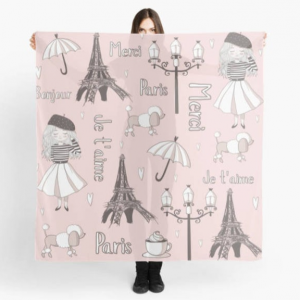 2. Eiffel Tour Tote: This is my own design. I own this Eiffel Tower logo and imprinted it on this 100% cotton tote bag. So handy. I take mine everywhere with me.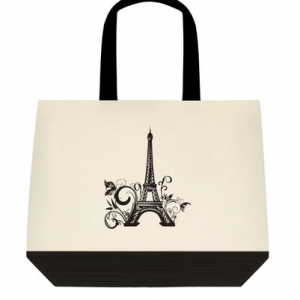 3. Woman of a Certain Age Pen and Notepad
4. Woman of a Certain Age Key chain
5. Paris-themed Table Napkins
6. A Bar of Lavender Soap
7. Paris-themed Colouring Book Secret Paris with a full set of coloured felt pens: I got into this myself because a dear follower of this blog sent me one.  (Thank you Nicki!)
One night as I was watching TV after a stressful workday, I started doodling and found it so so relaxing.
Now I pick up and doodle every chance I get.
This is my third Giveaway in 2021 for Annual Members.  In March, TWO  members each won an online French Cooking class with lacuisineparis.com.
In June, another lucky winner received two beautiful picture-packed hard-cover cookbooks by Hillary Davis
And now my French Gift Box. 
No need to qualify for this draw.
All of the annual members' names will be put into a hat and the winner will be selected next Sunday!
Stay tuned!
Not yet an Annual Member?
Is it Time To Sign Up for The Virtual Adventures Club
Featuring Exclusive Interviews with Women of Global Interest?
Check out this Bonus Offer!
The next THREE people who sign up will EACH get these bonus gifts —-
the Paris tote along with the pen, notepad, and key chain.
NOTE: I will be listing my 2022 Interviews in December. 
They are going to be fantastic!
To find out how to register as an annual member CLICK HERE!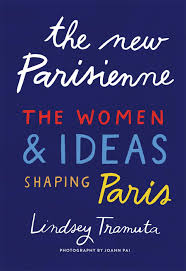 Don't Miss My Next Interview! It is FREE
Join me in conversation with Lindsey Tramuta
Author of The New Parisienne
And I will be Giving Away Her Book To One Lucky Winner!
Tuesday, October 12th, 2021
12:30 EST/9:30 am Pacific/6:30 pm Paris/5:30 London  
CLICK HERE TO REGISTER
Taking on a deeply entrenched French cliché, Lindsey Tramuta's new book The New Parisienne is getting a lot of attention as it focuses on one of the city's most prominent features, its women.
Lifting the veil on the mythologized Parisian woman—white, lithe, ever-fashionable—in this interview, Lindsey demystifies this oversimplified archetype and recasts the women of Paris as they truly are, in all their complexity.
Disclosure Policy:  This site uses affiliate links that may generate small commissions based on clicks and purchases in order to support the costs of running this site.  Any products that I give away are personally purchased by me unless otherwise specified. I write all the content on my site unless otherwise specified. And I respect the privacy of my subscribers and do not share their information with any other party or organization.
Brought to you by www.womanofacertainageinparis.com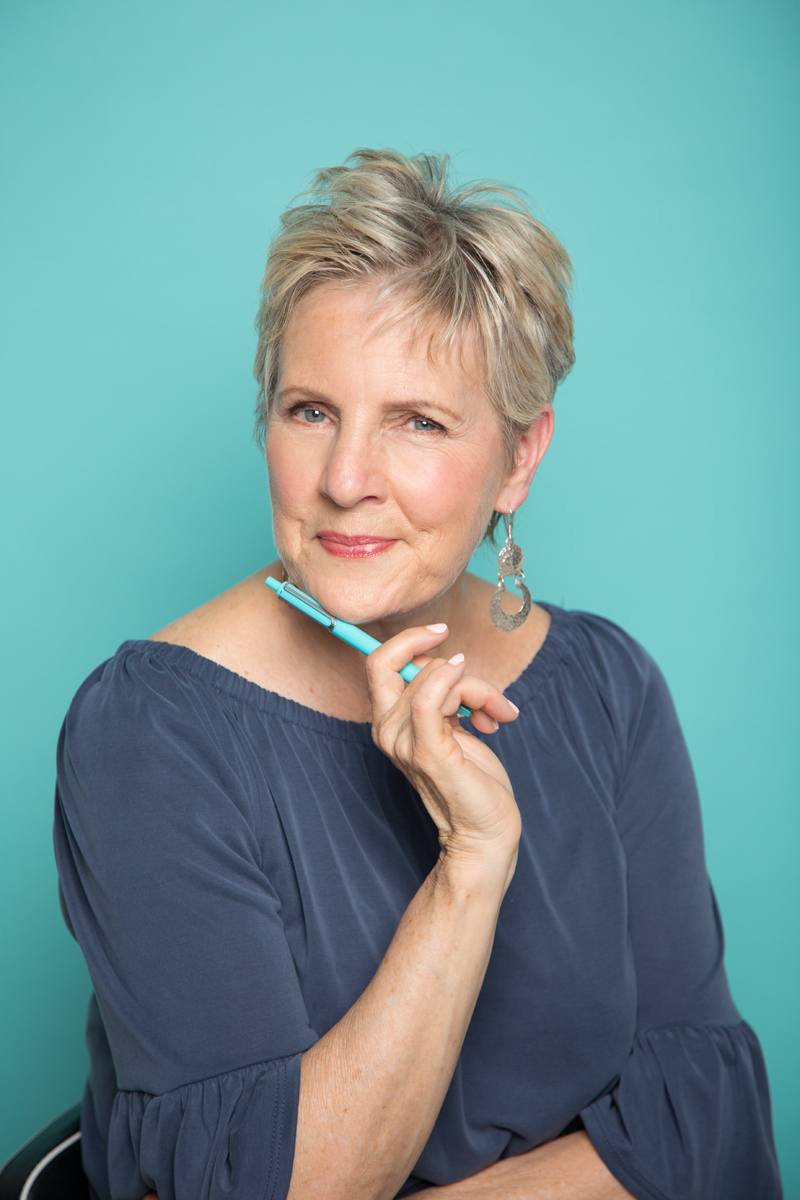 Diana Bishop the founder of The Success Story Program and A Woman of a Certain Age in Paris as well as a well-known correspondent with over 25 years working for CTV, CBC News, and NBC News. She loves travel, writing, and all things Parisienne.