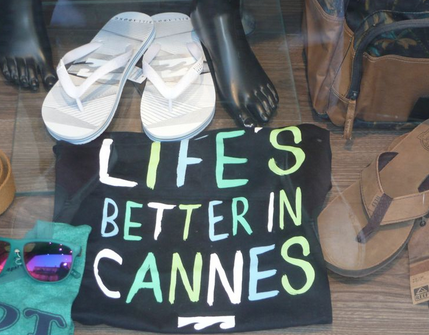 Despite the turmoil in and surrounding Ukraine, and with donations and loving support for the extensive victims of the conflict, hoping for the best, we go on living our lives…
In my case, I am heading back to France for a trip with my closest friend.
We were supposed to go in April of 2020 when COVID scuppered our plans— it includes 10 days in Paris and two weeks in  Cannes exploring the Riviera.
It was a trip where I also planned to try out a couple of home exchanges.
There are a number of sites that offer this experience and the formula is a simple one.
You sign up with a detailed description of your home, along with places that you might like to visit.
You can contact others or they contact you.  You have the option of doing a reciprocal or non-reciprocal house swap.
I did the later a few years ago.  I hosted a French couple, Astrid and Yves.
They came to my home on Georgian Bay in Ontario in the summer of 2019 while I was travelling at the same time elsewhere.
We have kept in touch and now I will be staying in their lovely apartment (their secondary residence) in Cannes.
Cannes!  On the Riviera! I cannot wait.
In Paris, I have found a spacious apartment (1000 sq feet) in the 17th owned by a family that will visit my home in Canada this coming summer.
With the home exchange, one makes new friends while economizing on travel costs as no money exchanges hands.
There is also a mutual understanding that because you are visiting each other's homes,  you will take care great care of each other's property.
I will be certainly writing about our experience in the coming weeks!
*All Cannes photos courtesy of Astrid and Yves.
*All Paris photos courtesy of Yael Huberty
My First 2022 Giveaway Draw For Annual Members
If you are an annual member of my subscription series WOMEN OF GLOBAL INTEREST, you are eligible 4 times a year for a special Giveaway Draw for something really yummy!
Sometimes it IS a cooking class, but I have also given away French gift boxes, French perfume, silk scarves, champagne webinars, etc.
This first one for 2022 is something really special.
If you remember from a previous blog, I discovered that I was wearing the wrong bra size … for years.
Thanks to my dear friend, Kathryn (Kate) Kemp-Griffing, author of the informative and witty book, Paris Undressed, that has all changed for the better!
*Click here to see that Blog Post
Bra Fitting Session and A Book
So for this first draw, I have personally purchased for one lucky winner a "Bra Fitting  Session" with Kate which she does online.

Yes, this is something that easily can be done virtually without any embarrassment.
With this session, I am also giving away a copy of Kate's book below.
Honestly, this session is really fun and very very informative!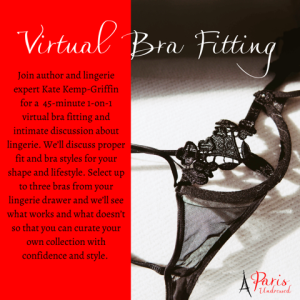 To Qualify, Please Email Me
This is a little more personal an offer than some of my others, so if you are interested in this Draw, you must be an annual member and please email at diana@womanofacertainageinparis.com.

I will announce the winner in the next blog post.
Bonne Chance!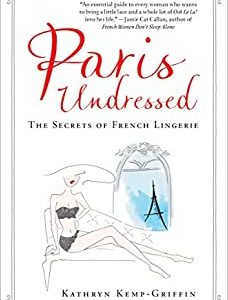 Paris Undressed: Giving Away Her Book Too!
You can see Kate's book by CLICKING HERE. 
Not an ANNUAL Member yet! 
Become a Member of My Exclusive Community of Women
Around the World Making the Most of this Exciting Chapter of Our Lives.
An Annual Subscription includes Live and Recorded Interviews
with the most remarkable women (of a certain age) around the globe,
along with special offers, travel connections with other members,
and 4 Giveaway Draws
for only 135.00 CAD/106.00 USD).
These fees help in part to pay for this blog, the website, the gifts and giveaways,
and
the production of the global interview series as well as the packaged recordings.
You will not find anything like it anywhere else!
Thank you so much for your support!
Brought to you by www.womanofacertainageinparis.com
Disclosure Policy: This site uses affiliate links that may generate small commissions based on clicks and purchases. Any products that I giveaway are personally purchased by me unless otherwise specified. I write all content on my site unless otherwise specified. And I respect the privacy of my subscribers and do not share their information with any other party or organization.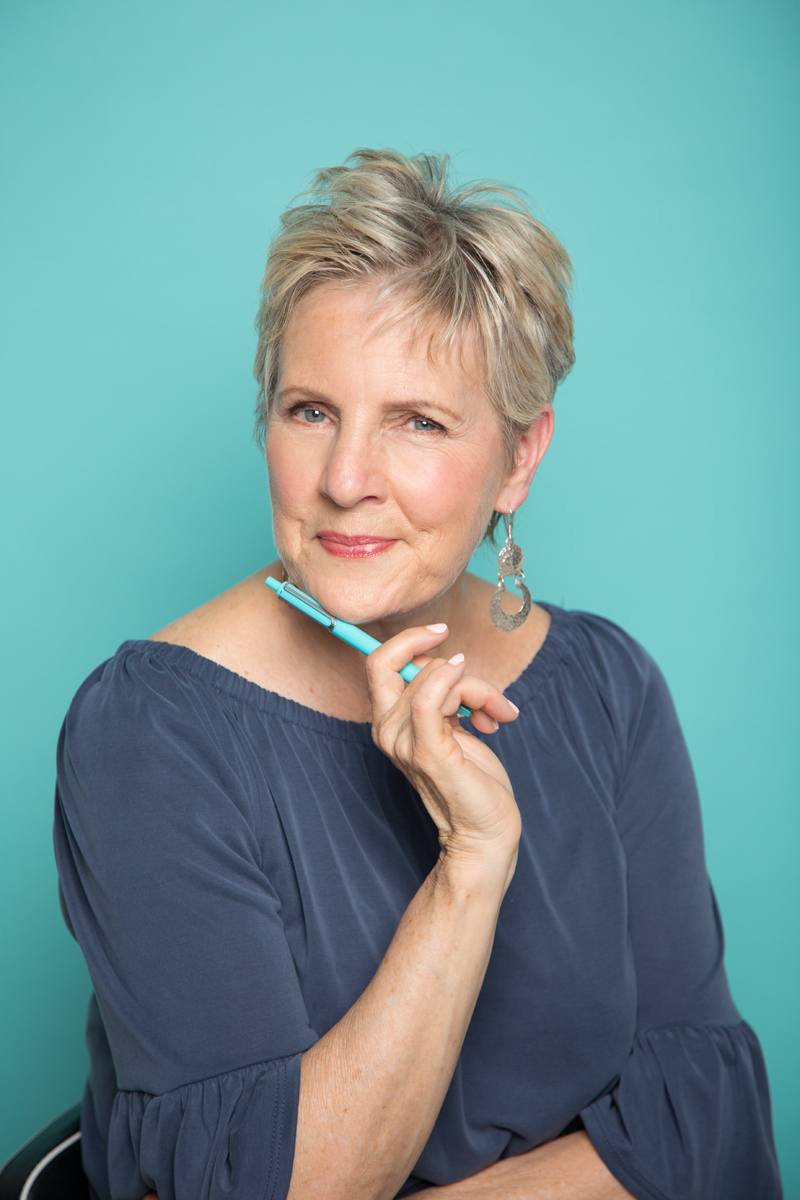 Diana Bishop the founder of The Success Story Program and A Woman of a Certain Age in Paris as well as a well-known correspondent with over 25 years working for CTV, CBC News, and NBC News. She loves travel, writing, and all things Parisienne.