My Four Seasons In France by Janine Marsh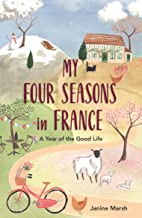 This is part two of Janine's story (author of My Good Life In France) where she illustrates how each season brings new challenges, as well as, new delights. Freezing weather in February threatens the lives of some of the four-legged locals; snow in March results in a broken arm, which in turn leads to an etiquette lesson at the local hospital; and a dramatic hailstorm in July destroys cars and houses, ultimately bringing the villagers closer together.
With warmth and humor, Janine showcases a uniquely French outlook as two eternally ambitious ex-pats (she and her husband) drag a neglected farmhouse to life, and stumble across the hidden gems of this very special part of the world.
Keep writing Janine.  I will never get tired of hearing about your good life in France.