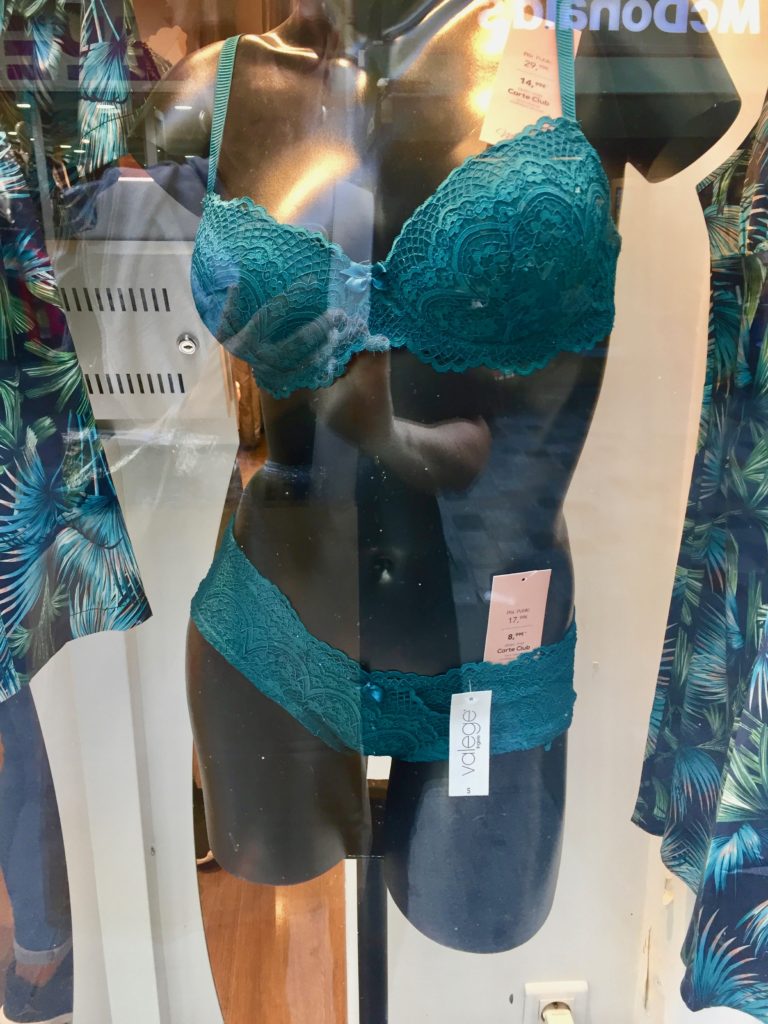 Ladies, how many of you are planning to put on a beautiful lace or satin bra and panties under your clothes today, tomorrow, and everyday?
Just for you.
I thought so.
I bet that if I were to ask a Parisian woman the same question, the answer might be wildly different.
That's because most of us wear underwear, and in Paris, women wear lingerie.
This is pretty much how my conversation started with Kathryn Kemp-Griffin, author of Paris Undressed:The Secrets of French Lingerie.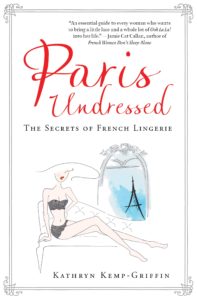 We had decided to meet for coffee in a funky Paris cafe called Merci and three hours later I will still enraptured by what Kate (as she prefers to be called) was talking about.
Your First Bra
"Do you remember your first bra?" Kate asked me.
"I do," I replied with a sigh.
It happened as a result of this stupid boy sitting behind me in my grade 8 class. He leaned forward and started to draw in thick black felt marker an outline of the undershirt I was still wearing under my blouse.
I ran home sobbing to my mother who the next day took me to the nearest department store.
My Triple AAA "training bra" was white, itchy and unattractive," I told Kate.
"And think of how that made you feel!" Kate added.  Like it was going to be embarrassing reaching womanhood was what I was thinking.
Then Kate described the experience a young French girl has in this situation.
"It's an event!" says Kathryn. The girl's mother, maybe even her grandmother and aunt, will escort the young lady to their favourite lingerie boutique. A lingerie expert will help her pick out the most beautiful bra she can find (and one that fits!).
Thus begins a life where the young woman "inhabits her body and her life with effortless grace and sensuality," says Kate.
Oh my.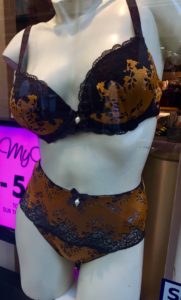 Lingerie In Paris
There are lingerie stores all over Paris, where women buy lingerie not as a luxury to be worn once in a while (like now during the holiday season or on a hot date where sex is the goal), but as something that makes them feel good.
It's just part of one's overall wardrobe.
And I bet that you do not see too many shop windows in our cities or towns where displays have advertisements that say — Libérer vos seins/Liberate your Breasts!
And I don't think they mean "go bra-less" which made me curious enough to want to go in and have a look!  But I didn't! I was too intimidated.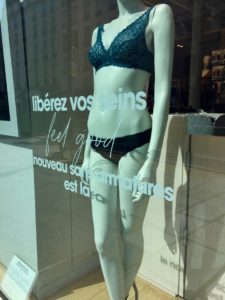 Oh there is soooo much more to talk about this subject and I promise more to come!
A Few Things About Kate –
Lingerie Tours
1. Kate takes women on Lingerie Tours!
How about that as an alternative to the usual Paris tourist attractions!
Check it out on her website at: http://www.kathrynkempgriffin.com
Paris Undressed: The Book
2. Her book is funny, witty, informative and will alter your perspective. (I discovered I am wearing the wrong bra size!)
You can buy her book HERE!
Pink Bra Bazaar
3. Kate is also the founder of Pink Bra Bazaar, a charitable organization dedicated to breast health education and supporting women with breast cancer.
Every year, women assemble at the Eiffel Tour to do a bra toss to raise awareness and show their support. 
Kate wasn't sure anyone would show up for the first event but hundreds of women did, and the event has now grown to other cities around the world! 
PS Kate will be featured in Canada's National Newspaper The Globe and Mail on December 19th.
I will have the link for you in a future blog.
Happy Holidays To All
Another Year!  I can't believe it. I want to wish a Merry Christmas and Happy Hanukkah to all of my subscribers!
Thank you for being part of my community who loves Paris and all things French.  And thank you for reading every week and I hope you will continue to follow me in 2020!
Taking A Break until January 4th, 2020
Note I will be taking a break over the holiday season. There will be no blogs for the next two weeks but I will be back on January 4th with a look at 2020.  I have lots of new blogs and ideas planned and I cannot wait to share them with you.
Cheers!
Diana — Your Woman Of A Certain Age In Paris
www.womanofacertainageinparis.com
Disclosure Policy: This site uses affiliate links which may generate small commissions based on clicks and purchases. Any products that I giveaway are personally purchased by me unless otherwise specified. I write all content on my site unless otherwise specified. And I respect the privacy of my subscribers and do not share their information with any other party or organization.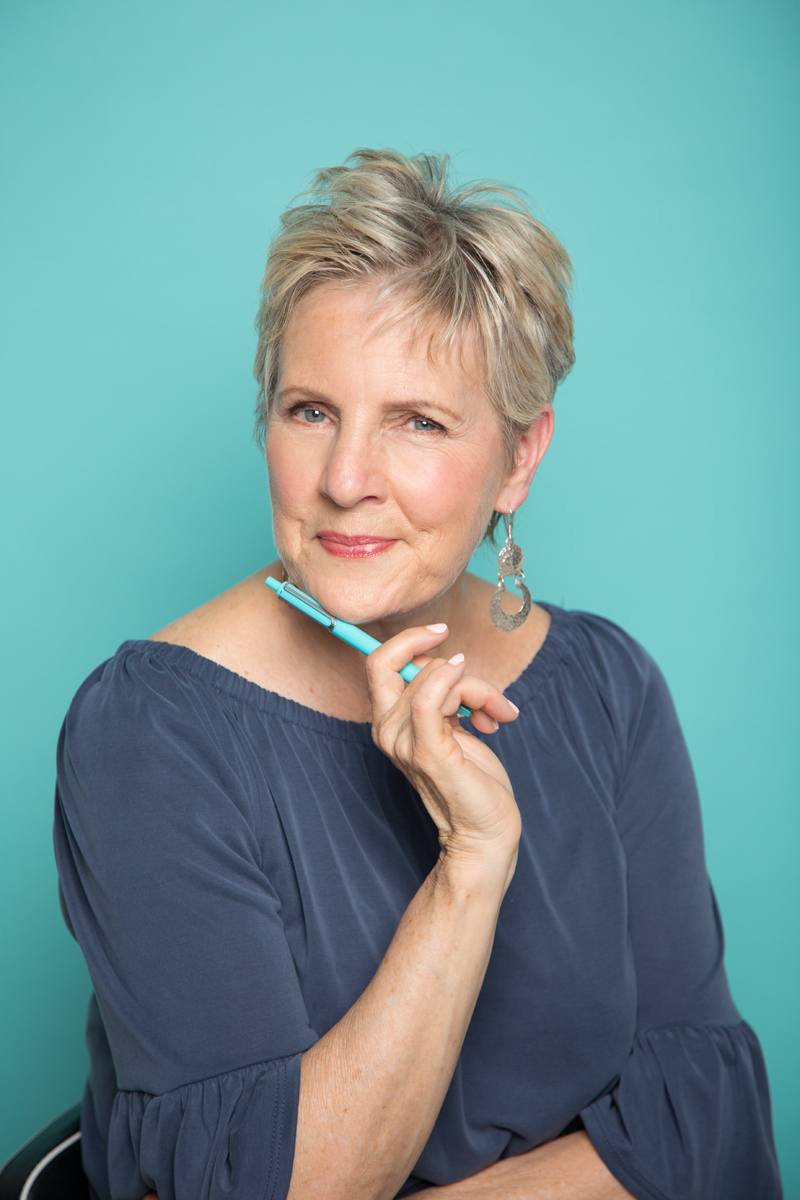 Diana Bishop the founder of The Success Story Program and A Woman of a Certain Age in Paris as well as a well-known correspondent with over 25 years working for CTV, CBC News, and NBC News. She loves travel, writing, and all things Parisienne.