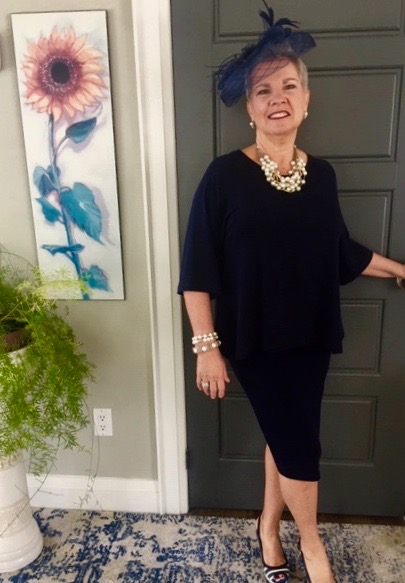 Ladies,
I could not believe the response from last week's blog about wearing your pearls!
I want to thank you for the emails and comments. And I wanted to share with you the pictures I received from readers along with their comments and stories.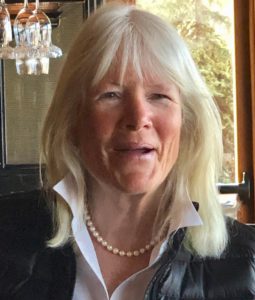 Janet Fleming
"My Mum gave me my pearls for my 21st birthday and I've worn them with everything ever since — even with my jeans and t-shirts.   I wear them to bed sometimes too because someone once said our body oils will only make them more beautiful!  Aren't they lovely?"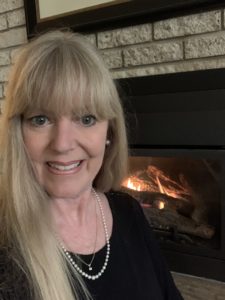 Erica Prinn-McCarthy
I love my pearls, and they do need to be worn to keep them healthy and beautiful!

Dianne Schwalm
"I wear a set my hubby gave me upon the birth of our first child now 36 and a fire captain. I  have enhanced my collection with a pair of Chanel pearls and others from around the world! We did give them to our two daughters when they turned 18 but they were not embraced as you mentioned!"

Win Kuplowsky
"In January of 2011 recuperating from Lyme Disease (a long story!) I was watching the film Julia and Julia, and had an epiphany of energy and inspiration. I went looking for every cook book I'd ever been given, many of them unopened, and I decided to cook meals from as many as I could for a month wearing the pearls that my husband had given me as a Christmas gift some years earlier.
It was a month of Julia Childs, Jacques Pépin, Vegetarians for Beginners,  Joy of Cooking. The Silver Palate
Needless to say it was the creativity I needed to heal, and all the time in pearls."
(*Note that you can purchase any of the books above by clicking on the links.)

Rose-Marie Fernandez
"Memories, stories…they all came to mind for each strand as I donned them all and felt so much gratitude for these beautiful pearls. Thank you for breaking up the day and making me feel the beauty of life!"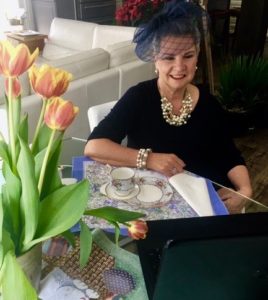 Karen Dorland
"I have many sets of costume pearls. I bought these last year in Wisconsin. My real strand of pearls is small and delicate – a gift from a former beau.  A jeweller told me I should wear them often because the oil in our skin keeps them moist.
Guess I will find them again. In these pictures (Feature Image at top too) I dressed up to have a "virtual" tea party with my granddaughters during this physical isolation time."
(Great idea!!!)

Joyce Kirby
Joyce is my neighbour and lives right next door. With social distancing, she called and asked if she could come to my door, where between the glass she displayed her multiple strands of pearls. I certainly didn't do her justice with this picture from inside my house but it was such a lovely surprise and made my day.  Thank you Joyce. And I love your pearls.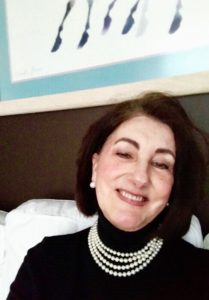 Barbara Mowat
"My first pearl was a ring bought in Thailand in the 1990s.  Then in Vietnam, I bought a pair of pearl earrings. My white pearls came years later given to me by my daughter when she was working in Shanghai. I actually don't know if they are real or not and I don't care—they mean more to me than anything. They are beautiful. Most of all I feel totally different dressed with make-up and wearing pearls!"
(BTW Barbara Mowat is President of GroYourBiz Ltd.which is the women's business group that I belong to and is my lifeline during this crisis.)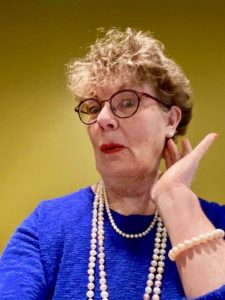 Dorothy Berry
"Yes, I love pearls! They make you feel more elegant even with a sweater and leggings. I decided to put my Perrier in a champagne flute…makes it take extra special as well.  (see that picture further down!)

Shardie Stevenson
My BFF gave me the idea for a blog about our pearls.  Shardie is without a doubt the most elegant person I know and looks great in all kinds of jewelry.  An English boyfriend of yore gave her the short strand of real pearls  and she has added some faux à la Coco Chanel.  I had not seen her wear pearls before this!

Catherine Willis O'Connor
Last but not least is my cousin Catherine who we all call "Twink" as in the nursery rhyme, "Twinkle Twinkle little Star", because she is the youngest and smallest in our family.  Twink is an artist and paints daily so she asked that we forgive the paint on her fingers. Even so, she never takes off the beautiful pearl ring that an aunt gave her years ago!
Winner of The Free Giveaway?
So many great pictures! Thank you all so much.
But  if I had to choose, my vote goes to Dorothy Berry who sent me a second picture toasting herself with a glass of Perrier. Love the nail polish!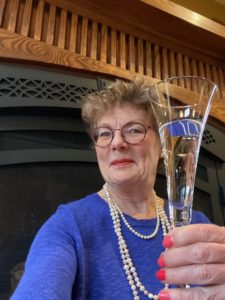 Better fill that flute with champagne now Dorothy!
You have won  Katherine  (Kate) Kemp Griffin's book called Paris Undressed! The Secrets of French Lingerie.
(For those of you who didn't win (this time!) you can still purchase this book by clicking on the link above.)
Congrats Dorothy!  Your book will be winging its way to you soonest!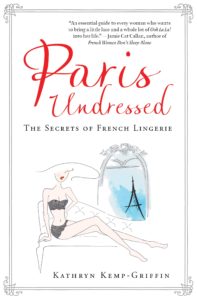 Quarantini Hour 
Just a reminder that Kate host — Paris Undressed Quarantini Hours — where you can learn about the history of French Lingerie and how to caress the now — even in self-isolation. 
You can book a spot at : http://www.kathrynkempgriffin.com/shop/
or contact Kate at info@kathrynkempgriffin.com
Disclosure Policy: This site uses affiliate links which may generate small commissions based on clicks and purchases. These commissions pay in part for my administrative costs of publishing this blog so I always appreciate it when you purchase through my links.
Any products that I giveaway are personally purchased by me unless otherwise specified. I write all the content on my site unless otherwise specified. And I respect the privacy of my subscribers and do not share their information with any other party or organization.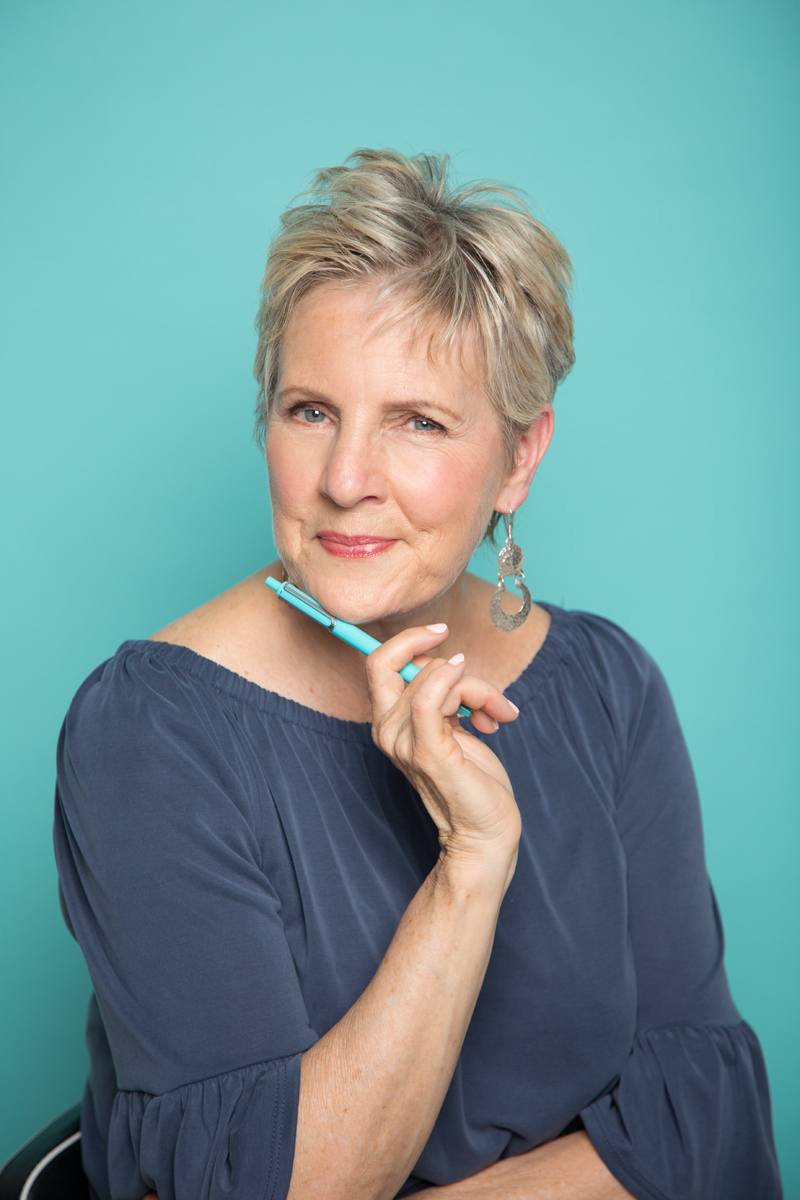 Diana Bishop the founder of The Success Story Program and A Woman of a Certain Age in Paris as well as a well-known correspondent with over 25 years working for CTV, CBC News, and NBC News. She loves travel, writing, and all things Parisienne.