If you enjoy reading about a place almost as much as being there, you will love my list of best-selling memoirs about Paris and France, all written by women.
I have personally selected and reviewed each of these books, and you will NOT find a more comprehensive list of memoirs and novels about France anywhere else!
Meet the Authors
As part of my new Virtual Adventures Club, I am hosting LIVE Webinars to interview these celebrated and accomplished authors!  Imagine hearing their stories up close and personal!
Their books are available in paperback or e-book simply by clicking the Title Links below!
*I do ask that if you are interested in buying these online that you do so with my links. I receive a small affiliate commission which helps pay in part for the administration costs of running this website. Thank you for supporting me.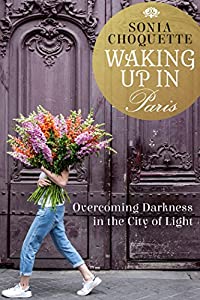 Waking Up In Paris by Sonia Choquette
If you are going to start over somewhere new…why not do it in Paris?
You may know Sonia as a spiritual teacher and intuitive guide. She begins her memoir devastated by the unexpected end of her decades-long marriage and decides to relocate to Paris, the scene of many happy memories from her life as a student and young mother.
Arriving in the aftermath of the Charlie Hebdo massacre, she found Paris as traumatized by this unforeseen event as she had been by her divorce. Together, over the following years, she and the city she loves begin a journey of healing that involves deep soul-searching and acceptance of a new, sometimes uncomfortable, reality.