If you enjoy reading about a place almost as much as being there, you will love my list of best-selling memoirs about Paris and France, all written by women.
I have personally selected and reviewed each of these books, and you will NOT find a more comprehensive list of memoirs and novels about France anywhere else!
Meet the Authors
As part of my new Virtual Adventures Club, I am hosting LIVE Webinars to interview these celebrated and accomplished authors!  Imagine hearing their stories up close and personal!
Their books are available in paperback or e-book simply by clicking the Title Links below!
*I do ask that if you are interested in buying these online that you do so with my links. I receive a small affiliate commission which helps pay in part for the administration costs of running this website. Thank you for supporting me.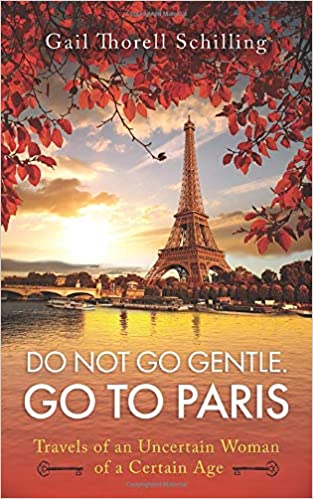 Do Not Go Gentle, Go To Paris by Gail Thorell Schilling
The perfect memoir for women of a certain age. Rattled by fears that she is losing her keys, her looks, her job, and her sweetheart, Gail, 62, rashly announces that she will go to Paris, a dream postponed for 40 years.
So begins her solo journey through France, living like a student as her budget often dictates, but always finding a silver lining in the choices she makes. You will find yourself wondering how you would fare on such a trip and cheer Gail along with her optimistic, infinitely curious nature as she rebuilds her self-confidence and gets comfortable with how to age in her own way.
A great read!