If you enjoy reading about a place almost as much as being there, you will love my list of best-selling memoirs about Paris and France, all written by women.
I have personally selected and reviewed each of these books, and you will NOT find a more comprehensive list of memoirs and novels about France anywhere else!
Meet the Authors
As part of my WOMEN OF GLOBAL INTEREST Series, I am hosting LIVE Webinars to interview these celebrated and accomplished authors!  Imagine hearing their stories up close and personal!
Their books are available in paperback or e-book simply by clicking the Title Links below!
*I do ask that if you are interested in buying these online that you do so with my links. I receive a small affiliate commission which helps pay in part for the administration costs of running this website. Thank you for supporting me.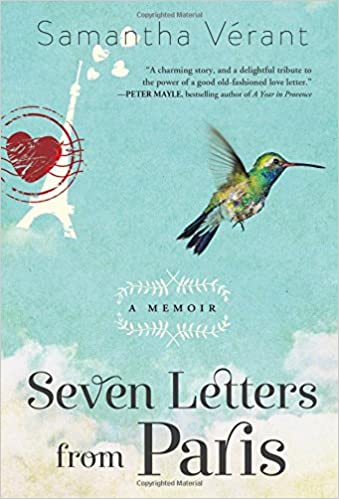 Seven Letters from Paris by Samantha Vérant
This is one of those stories that if it happened to you, you would definitely have to write a book!
At age 40, Samantha Vérant life was falling apart. She was jobless, in debt, and feeling stuck until she stumbled upon seven old love letters from Jean-Luc, the sexy Frenchman she'd met in Paris when she was 19. With a quick Google search, she finds him, and both are quick to realize that the passion they felt 20 years prior hasn't faded with time and distance.
Samantha knows that jetting off to France to reconnect with a man that she only knew for one sun-drenched, passion-filled day is crazy and probably won't work out, but it's the kind of crazy she's been waiting for her whole life.
So so good!
(Moral of the story — go back and read those old love letters ladies!)