If you enjoy reading about a place almost as much as being there, you will love my list of best-selling memoirs about Paris and France, all written by women.
I have personally selected and reviewed each of these books, and you will NOT find a more comprehensive list of memoirs and novels about France anywhere else!
Meet the Authors
As part of my new Virtual Adventures Club, I am hosting LIVE Webinars to interview these celebrated and accomplished authors!  Imagine hearing their stories up close and personal!
Their books are available in paperback or e-book simply by clicking the Title Links below!
*I do ask that if you are interested in buying these online that you do so with my links. I receive a small affiliate commission which helps pay in part for the administration costs of running this website. Thank you for supporting me.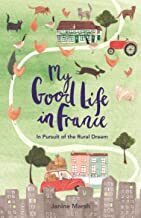 My Good Life In France by Janine Marsh
Janine's journey begins with a trip across the English channel to pick up some cheap (but very good I am sure) French wine.  It is on that trip where Janine finds herself putting in an offer on a rundown old barn in the area of Pas de Calais. And voila, she begins her new adventure living in rural France.
Don't expect another Under the Tuscan Sun story. There is no endless sunshine or sexy Italian men, although her husband sounds like a real doll. It is fantasy turned into real life with a lot of sweat, colourful characters, and a growing menagerie of cats, dogs, chickens, and ducks that have names like Gregory Peck and Ginger Rogers.
You will love it.