My Spring Silk Scarf Giveaway!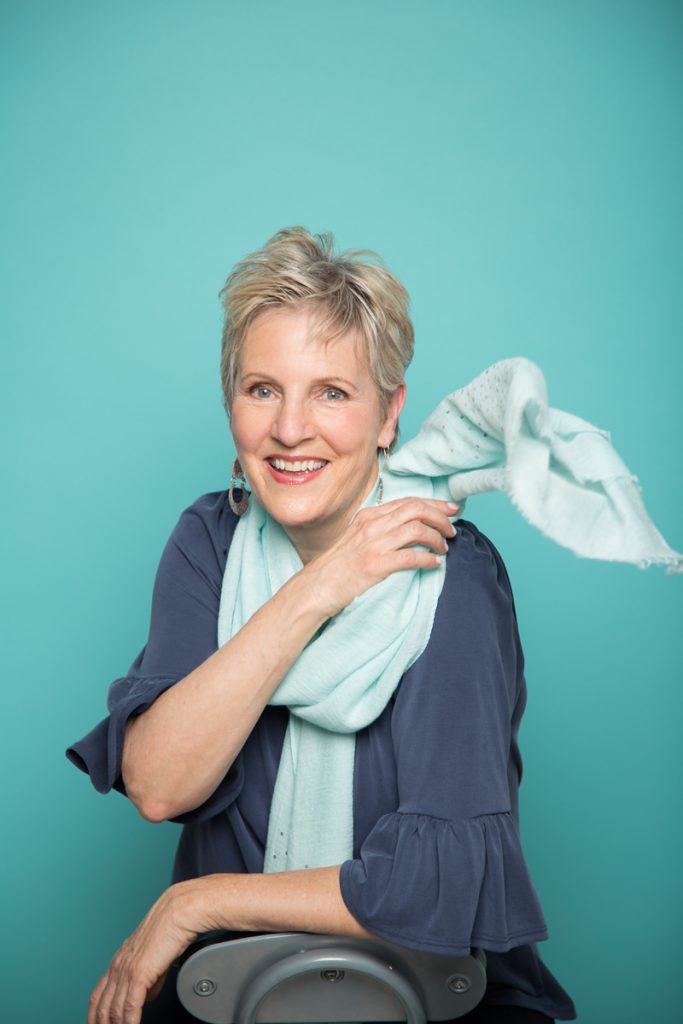 At this time of year, Parisians are beginning to forgo "l'écharpe", the heavier scarf they wear during the colder months, for "le foulard", a scarf made from lighter material, such as silk.
Channel Your Inner Parisian; Wear a Scarf
The scarf is an integral part of the French wardrobe, worn by women and men alike. Learning how to wear one with panache like a French person is an art form – one that I plan to continue to investigate and share with you.
That's why I have teamed up with a company called Green Scarf Boutique
for my Spring Giveaway Offer.
Qian Zhang is not Parisian but believes like I do that the scarf is an important accessory to any women's wardrobe. She has built her business around sourcing the world's most elegant and also affordable silk scarves. Qian's mother, a woman of a certain age, started out in retail in Beijing China, and has been Qian's mentor.
I have worn scarves most of my life to add flair to a blouse or suit jacket, or to dress up an outfit in the evening.  As an on-air TV News Correspondent, wearing a scarf on camera became my trademark. Viewers often called me after the newscast to ask me where they could buy the scarf I was wearing.
My Spring Giveaway Offer
I loved Jian's products so much that I purchased one of her scarves to give away to one of YOU in this new Offer.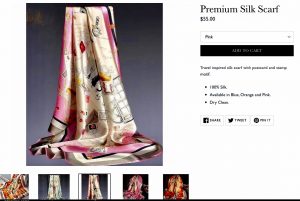 It is 90 centimetre-square 100 percent silk pink and gray scarf with a French theme. I have asked Qian to model it for us, and she has also provided a short VIDEO to demonstrate a couple of ways to style the scarf.  That video is available on my Facebook Page — see further down for link.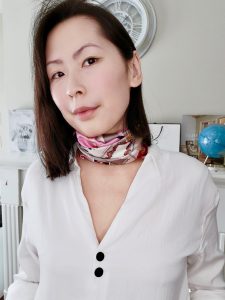 How To Be Eligible? 
My Spring Scarf Giveaway is open to both NEW and EXISTING SUBSCRIBERS
anywhere in the world.
To Qualify you  need to either;
BECOME A SUBSCRIBER to this blog at www.womanofacertainageinparis.com
Scroll down to the box on the right hand side that says, "I Invite You to Subscribe" and fill in your name and email address.
OR
IF ALREADY A SUBSCRIBER? SHARE THIS BLOG with ONE FRIEND who is NOT yet a Subscriber and send that person's email to me at dbishop@successstoryprogram.com
(Note: I will contact this person and ask them for permission to add them to my subscriber list.)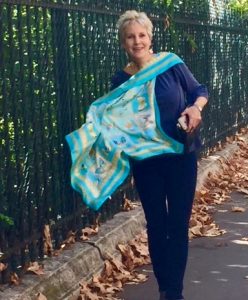 How to Wear a Scarf; The VIDEO
Go to my Facebook Page at https://www.facebook.com/womanofacertainageinparis/?modal=admin_todo_tour
Qian's online store is also at Green Scarf Boutique https://greenscarfboutique.com
OTHER TERMS AND CONDITIONS:
The Draw will be made on May 1st and announced on Sunday May 3rd.
Once the winner has been contacted and received their free scarf in the mail, they will be asked for a Short Interview, and to take a Selfie or Photo modelling the scarf to send to me.
The content will be used to promote interest to my blog and posted on FB, Instagram and Twitter. I do not derive any commission from the purchase of products or services promoted on this page.
Good Luck Ladies!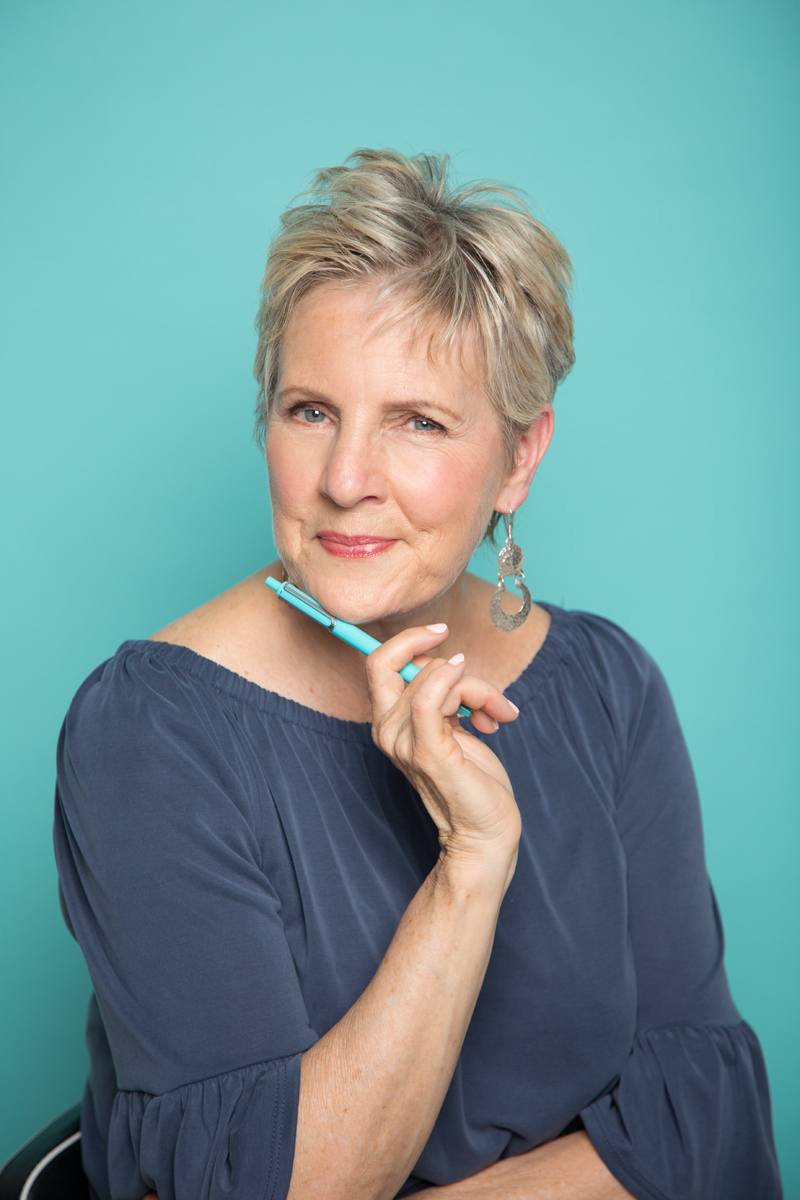 Diana Bishop the founder of The Success Story Program and A Woman of a Certain Age in Paris as well as a well-known correspondent with over 25 years working for CTV, CBC News, and NBC News. She loves travel, writing, and all things Parisienne.