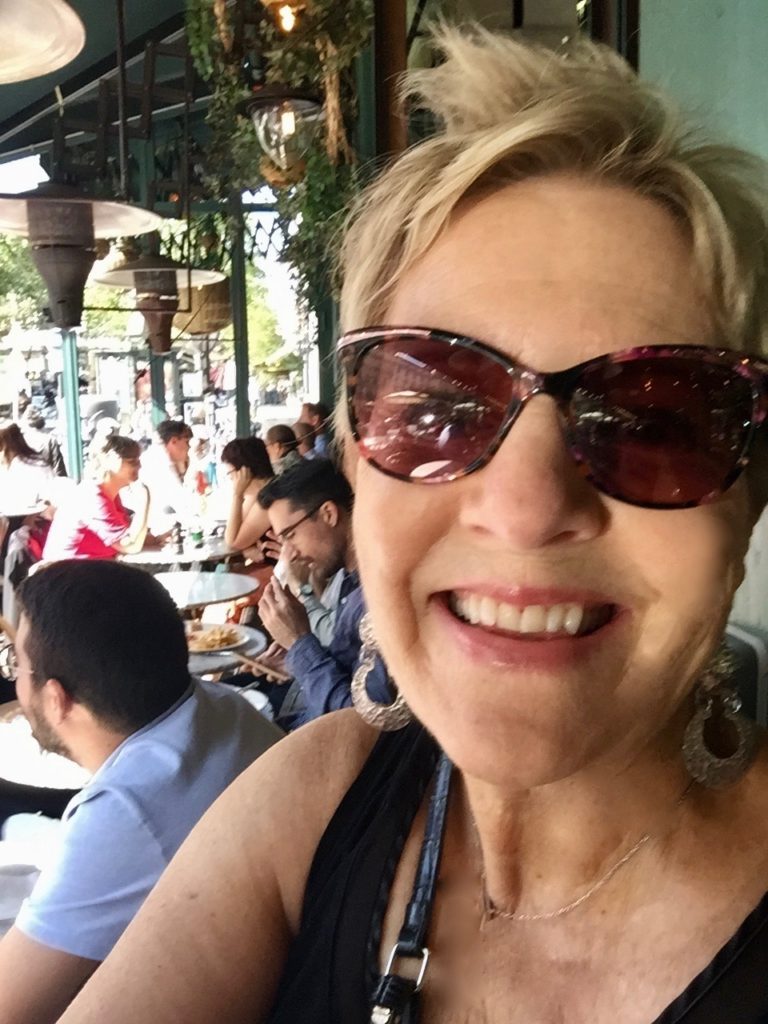 A Friday. In September. In Paris.
The morning has been a bit cool, but by noon, the warmth of the sun beckons those winding down from a busy week to search for an inviting outdoor "resto" to partake in "le dejeuner"| lunch.
I am embarking the following week in some French courses (which I take from time to time) and after finding the location of the school, decide to treat myself to lunch in the same area.  So I stroll down the street to a restaurant called Café Le Brebant on 32 Rue Poissonnière.
Eating Alone In Paris
At home I would not be tempted to linger over a meal by myself, especially elbow-to-elbow with so many others, but in Paris, I am comfortable doing so.  I also appreciate that as a woman and a party of one,  I am escorted to a table of my choosing on the terrace facing the sidewalk and the street.
If you can sit or stand still in Paris for a little while, all aspects of Parisian life unfold before you. So once the waitress takes my order, I do just that. People watch.
I appear to be the only observer of the scene as patrons are laser-focussed on each other, oblivious to those around them. This way they forget they are sitting so close together I guess.  It's intense though as people engage, some listening intently.  Others discuss, gesticulate and even argue.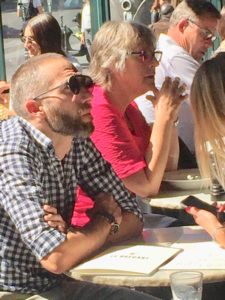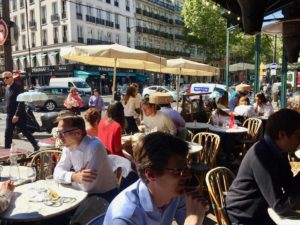 Across from me, are four French men, clearly good friends who every few minutes erupt into boisterous laughter. Their good mood is infectious. The wine is flowing and they have ordered pasta dishes to start along with a large plate of plump oysters as their appetizers. With many more courses to come.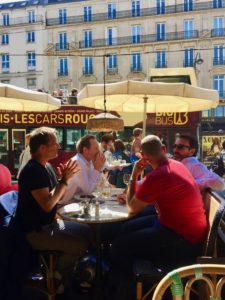 Just as my "salade de crevettes"| shrimp salad arrives along with crispy French bread, there is a commotion on the street. Then the sound of screeching tires, an impact of some sort and a car speeding away.
It appears that a cyclist has been clipped by a vehicle that did not stop to investigate.  The traffic comes to a dead stop as people from the sidewalks rush to help the man. Not just one or two but dozens of people.  Horns blare, the level of voices rise as traffic and pedestrians try to circumvent the area.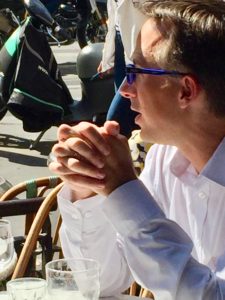 In the restaurant however, nobody moves. They look over.  But only for a moment. No one appears the slightest bit fazed by the sudden activity or the ubiquitous two-toned sirens as the Parisian police cars add to the melee, along with the arrival of the ambulance. They are already back to their conversations and debates savouring a long lunch.
(The man, I learn, was apparently fine.  I HAD to know!)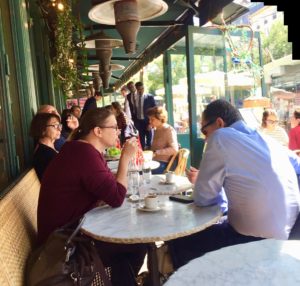 An hour later, I am still there too, sipping a dark expresso with nothing much on my mind.  Well, I guess I am reflecting that moments that seem so ordinary in my every day life take on an elevated perspective here.
In Paris, my senses seem to be on overdrive even with the most commonplace activities, such as walking down the street, looking skyward at the roof tops and yes enjoying a leisurely lunch outdoors on a Friday afternoon.  There is just so much to take in!
Have you dined alone in Paris? Tell us about your experience!
Don't forget to ENTER MY FALL GIVEAWAY DRAW!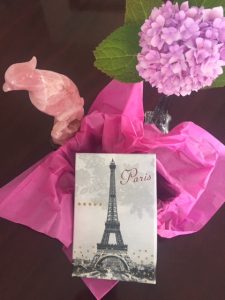 Thank you to those of you have already qualified for Fall Giveaway — a SURPRISE FRENCH BOX!
I met some new friends in Paris this week on a Loire Valley Tour! I will be writing about that soon.  But I want to give a shout out to those lovely ladies: Addie our tour guide from Paris, Margaret from Victoria, Australia,  and Nikki from Brooklyn, New York. Welcome to my blog, ladies.
You have qualified along with other readers for  the  draw in which I am giving away a dozen French and Paris-themed Items that I know you will love. I will reveal what is in the box once I announce the winner on Sunday October 20th.
For those of you who have not yet qualified for this Free Giveaway Draw
All you need to do is become a subscriber to my blog or
find ONE NEW SUBSCRIBER to my BLOG.
Do you have a friend or family member that you know that might be interested in channeling their Inner Parisian,
while learning more about the City of Love and Light?
Contact that person to ask for their permission to be added to my Subscriber List. 
Then send me their email address* at diana@womanofacertainageinparis.com.  
*Their email address will not be shared with anyone else!
I will send your contact an email and also one to you to confirm their subscription.
Then you will BOTH be officially ENTERED into the DRAW.
Good Luck Ladies!
TERMS AND CONDITIONS:
Once the winner has been selected and received the French box in the mail, they will be asked for a Short Interview, and to take a Selfie or Photo with their new gifts. 
The content will be used to promote interest in my blog and may be posted on FB, Instagram and Twitter. I personally purchase my Giveaway products and do not derive any commission from them.
Check out blogs that you might have missed at www.womanofacertainageinparis.com
You can catch up on my other blogs at www.womanofacertainageinparis.com
Disclosure Policy: This site uses some affiliate links which may generate small commissions based on clicks and purchases of marketed products. Any products that I giveaway are personally purchased by me unless otherwise specified. I also write all content on my site unless otherwise specified. And I respect the privacy of my subscribers and do not share their information with any other party or organization.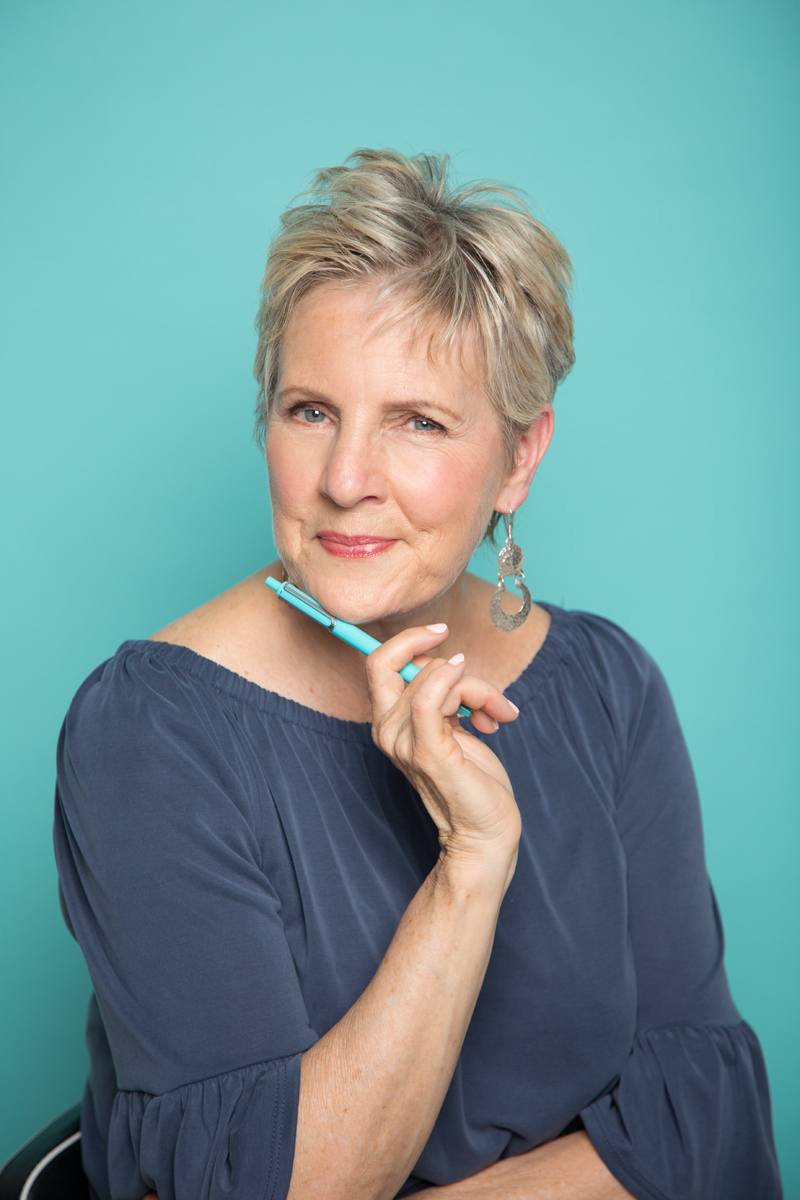 Diana Bishop the founder of The Success Story Program and A Woman of a Certain Age in Paris as well as a well-known correspondent with over 25 years working for CTV, CBC News, and NBC News. She loves travel, writing, and all things Parisienne.