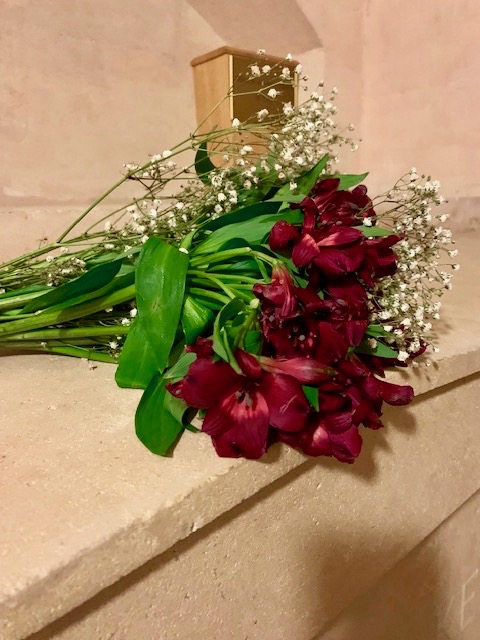 It was strange, to say the least when I found myself way down in the crypt.
Eerie too.
I was practically the only person in the vast subterranean chamber of the Panthéon in Paris that day for some reason.
All alone visiting the final resting place for many famous French poets, writers and scientists, and now an entertainer. 
I had wanted to visit the mausoleum ever since I had attended the induction of American black singer and actress Josephine Baker into the French Panthéon,  a ceremony that took place at the end of November last year.
The Panthéon was originally a church, and sometimes still is, built in the mid-1700s as a domed monument in Paris' Latin Quarter.
It is impressively imposing from the outside but inside the architecture swallows you up with its austere grandeur.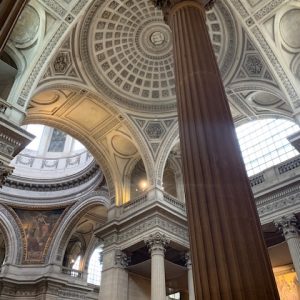 BUT then I took the walk down the narrow circular staircase in the far left corner of the building.
I wended my way around and around descending further, the temperature seemingly dropping a degree with every step.
To reveal an elaborate labyrinth of long hallways and small rooms.
The first thing I encountered was the statue and tomb of the illustrious French writer and philosopher, Voltaire (1694-1778)
Voltaire! Who I had studied at school, and who, smiling to myself, I remembered had been ultra-critical of the Catholic Church.
(Probably wasn't his idea to end up here.)
There was not a sound, and I continued in a reverent state discovering one after the other the tombs of writers and scholars like Emile Zola,  Jean-Jacques Rousseau, Victor Hugo, and others
who had made names for themselves like Madame Curie, the physicist and chemist who conducted pioneering research on radioactivity.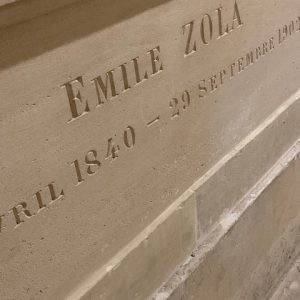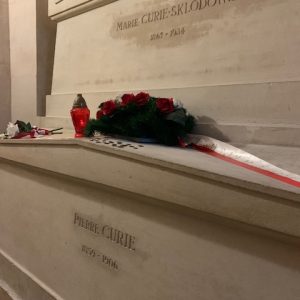 It reminded me a little of being in Westminster Abbey in London where 30 Kings and Queens are among the thousands buried there.
That feeling about being among greatness and immense cultural history all packed into one place.
But this was more personal.  There were no crowds. Each room contained a few body-sized tombs and  I was able to run my hand on each name engraved on their burial vault.
It was as if I could feel the spirits of those that have been honoured here.
I did eventually find Josephine Bakers' sarcophagus, and it was nice to see that someone had left some roses.
With so much beige concrete and spooky lighting everywhere, it was nice to see some colour.
Haha.
Hey, I think I heard Josephine giggle.
I didn't see or hear any other ghosts, although I almost jumped a mile when I ran into another tourist on my way out!
As of December 2021, the remains of 81 people (75 men and six women) had been transferred to the Panthéon.
Have you visited the Panthéon and the Crypt?
What was your experience?
Please share below with all of us where it says "Leave A Reply."
We love to read your comments!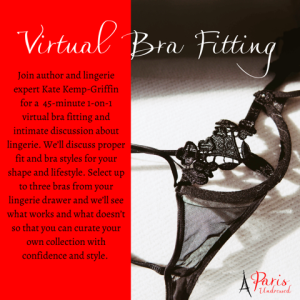 Who WON The First 2022 Giveaway Draw?
If you are an annual member of my subscription series
WOMEN OF GLOBAL INTEREST,
you are eligible for a special Giveaway Draw once every quarter.
And we now have our first winner!
For the Virtual Bra Fitting Session
Along with Paris Undressed, the book!
The Winner IS:  Carol Chambers of Collingwood Canada
Congrats Carol, I will be connecting you with Kate shortly.
The next draw for annual members is in June. Stay Tuned!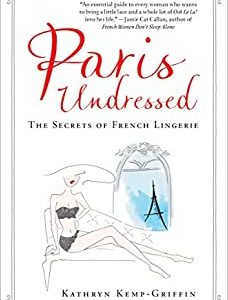 Paris Undressed: The Book
You can find Kate's book by CLICKING HERE. 
And if you did not win but would like to purchase Kate's Virtual Bra Fitting Session
you can find her by going to her website at https://www.kathrynkempgriffin.com/
Not an ANNUAL Member of WOMEN OF GLOBAL INTEREST yet?

I invite you to join my Exclusive Community of Women
Around the World Making the Most of this Exciting Chapter of Our Lives.
An Annual Subscription includes Live and Recorded Interviews
with the most remarkable women (of a certain age) around the globe,
along with; Special offers,
Travel connections with other members,
A one-on-one consultation with me
and 4 Fabuloous Giveaway Draws
A membership costs only 135.00 CAD/106.00 USD).
These fees help in part to pay for this blog, the website, the gifts and giveaways,
and
the production of the global interview series as well as the packaged recordings.
You will not find anything like this anywhere else!
Thank you so much for your support!
Brought to you by www.womanofacertainageinparis.com
Disclosure Policy: This site uses affiliate links that may generate small commissions based on clicks and purchases. Any products that I giveaway are personally purchased by me unless otherwise specified. I write all content on my site unless otherwise specified. And I respect the privacy of my subscribers and do not share their information with any other party or organization.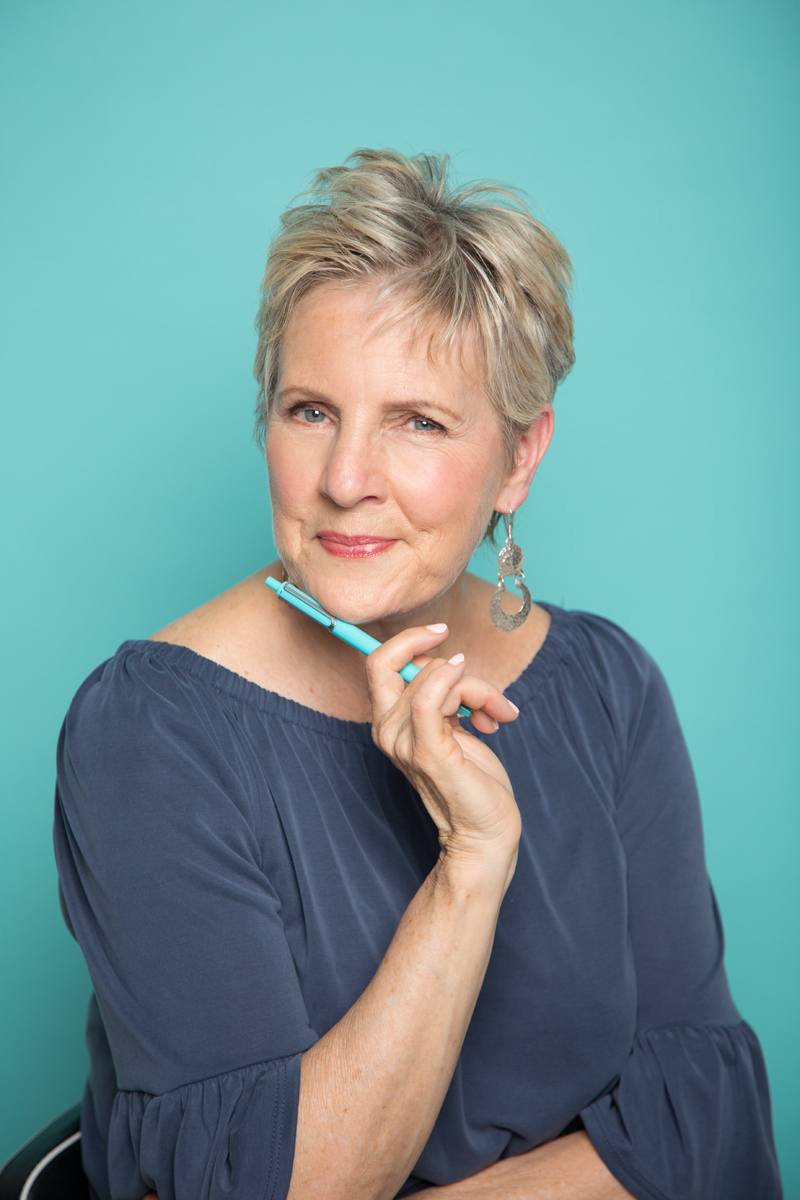 Diana Bishop the founder of The Success Story Program and A Woman of a Certain Age in Paris as well as a well-known correspondent with over 25 years working for CTV, CBC News, and NBC News. She loves travel, writing, and all things Parisienne.