What's In The Surprise French Box?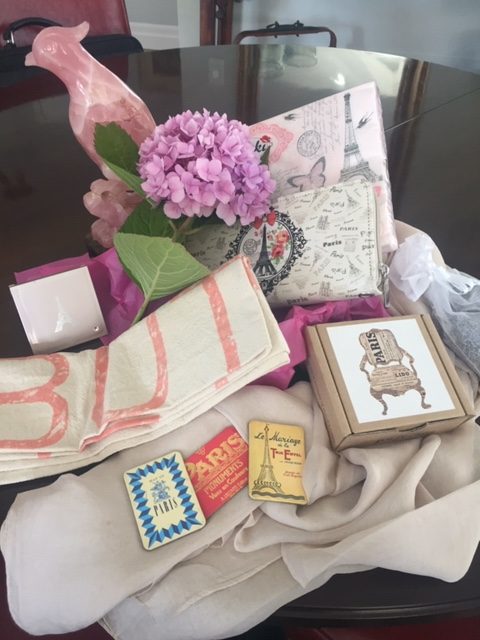 I am so thrilled to have heard back from the Winners of my Fall Giveaway Draws.
So now, I can reveal what was in the Surprise French Box.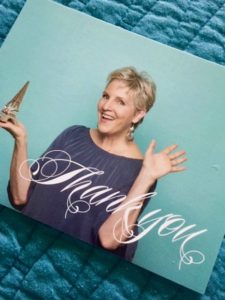 There were 12 items that I personally purchased — and thank you, one and all,  for applying for the draw.
Your continued support means the world to me.
12 Gifts from Paris
Here is what I put in the box:
1. A cream-coloured chiffon shawl scarf (5 by 5 feet square/1.524 metres by 1.524 metres)
2. A Paris-Themed Wallet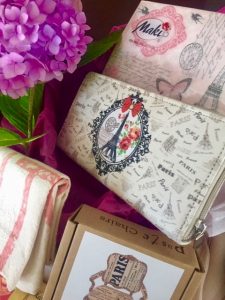 3. A Silver Paris-themed Make-up Mirror (perfect for traveling)
4. A Refillable Perfume Atomizer from Fragonard Paris (also great for traveling)
5. A Lavender Sachet (for your lingerie drawer?)
6. Lavender Salt (a great seasoning for chicken, fish or lamb)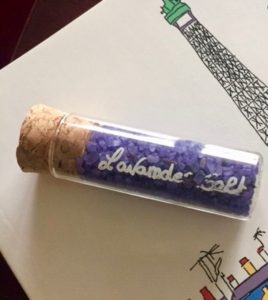 7. Paris-themed Chocolates (yum and so pretty!)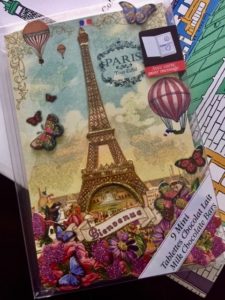 8. Paris Notes and Envelopes
9. A Wine Stopper from Château de Chenonceau
10. Hand Soap
11. A Pink and White Linen Dish  Towel that has a quote from chef Julia Child:
"If you are afraid of Butter use Cream."
12. Paris-Themed Table Napkins
Giveaway Draw Winner
The winner of the French Box is Carol Cavell  is from Indianapolis. She received the box this week.
"The WONDERFUL Paris box was such a treat to open," says Carol. "I honestly absolutely LOVED each and every special surprise."
"I have longed to visit Paris," Carol adds,  "Reading your educative, enlightening blog posts has prioritized my desire big-time. I definitely see a 2020 adventure, with my daughter, to this fascinating city!"
Bonus Draws
And because I cannot resist adding some bonus Draws,  I did two.
Susan Mallinos from Ajax, Canada received one of my favourite books —
New York Times bestseller Paris Letters by Janice MacLeod.
You may remember me mentioning that Janice's book was, in part, the inspiration for writing this blog.
AND this lovely Paris-themed pink and cream scarf  below is going to Christine Peisley from Canberra in Australia.
That package is still winging its way there!
So what will be my next Giveaway? Hmmmm… any ideas for me? Always love to hear from you.
Paris Pot Pourri

You all remember by dear friend and French teacher extraordinaire, Christine Camm, creator of Simply French Online.
Some of you have even signed up to take her very effective and fun online French classes.
I have given away Private Lessons with Christine in the past.
Well, stay tuned, because Christine is generously offering a Surprise Giveaway for one of my subscribers coming soon!
You can read about Christine in an earlier blog at:
Disclosure Policy: This site uses affiliate links which may generate small commissions based on clicks and purchases. Any products that I giveaway are personally purchased by me unless otherwise specified. I also write all content on my site unless otherwise specified. And I respect the privacy of my subscribers and do not share their information with any other party or organization.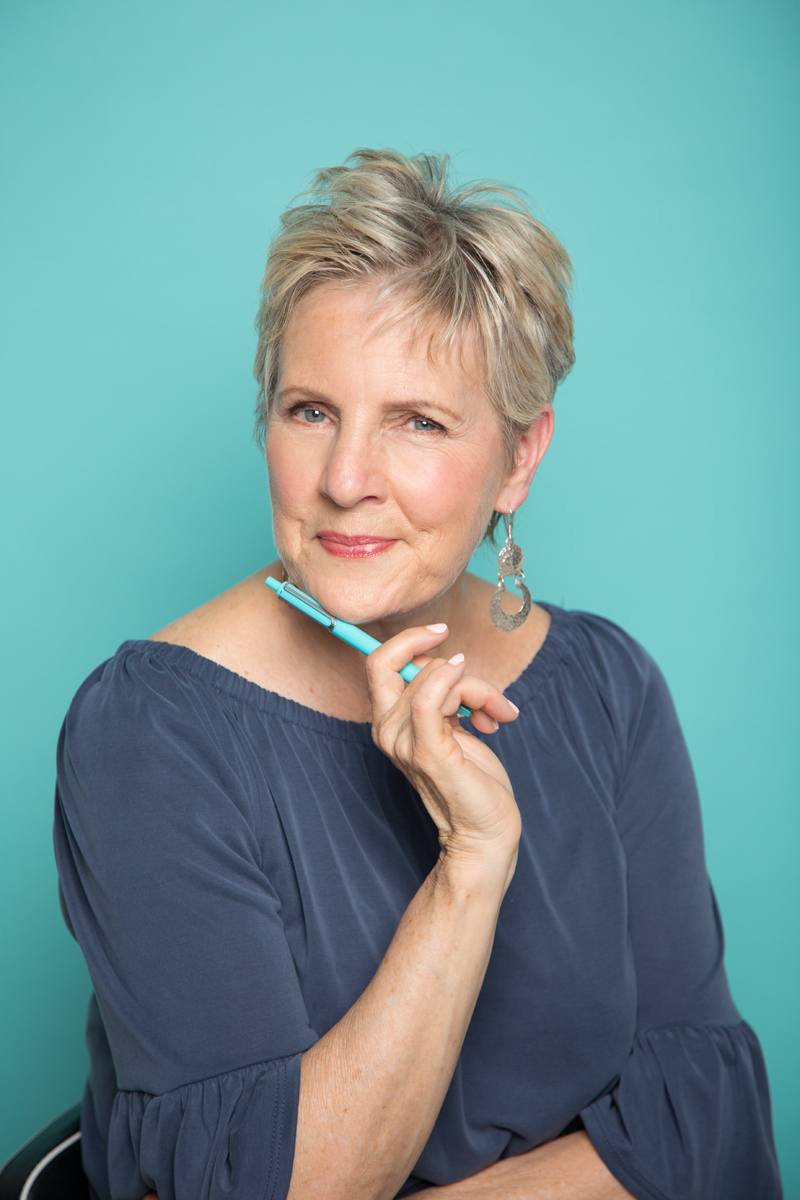 Diana Bishop the founder of The Success Story Program and A Woman of a Certain Age in Paris as well as a well-known correspondent with over 25 years working for CTV, CBC News, and NBC News. She loves travel, writing, and all things Parisienne.