Wine Tasting at the Château Nitray
Are there still counts in France?
Yes indeed.
As part of a Loire Valley Château tour, I paid a visit to the stunning Château de Nitray built in the 16th century.
This where I met my first count | Monsieur le comte.
The Count de Nitray
Despite the French revolution, nobility still exists in France.  As a result, I guess I was expecting an older grey-haired man with a supercilious edge to pontificate about the superiority of French wine … blah blah blah.
Instead, my tour group was greeted by the affable and young (by my standards) François de l'Espinay who has been running the Nitray winery since 1989. François took over the business from his father-in-law and the whole family still lives altogether in the château.
They harvest, bottle and sell a variety of wines that are Loire labelled AOC Touraine (controlled designation of origin).
Nitray Wines  – The White

Over lunch, we were treated to two of the family's most popular wines;
To start — their "Sauvignon"

It is described as a "well-balanced wine with aromas that are fruity with dominant citrus notes, and a hint of broom."
I hope they mean the "broom flower" and not what they used to sweep up the floors of the chateau!

Nitray Wines — The Red
It was called "CôtCôt Codette"— it had renotes of red fruit, apricot compote and violet.
I actually don't drink, but when in France…
I just had to taste both of these wines, and while I was not able to distinguish the notes of broom, they were both excellent!
(I take the same approach to croissants and French bread when I am in France.)
For a little added drama, the count used a sabre to lop off the corks, something he encouraged us not to try at home.*
*See my short video on my Facebook Page.
Our lunch was a hardy mix of roasted chicken, done to perfection, with boiled potatoes, stewed tomatoes and salad.
It was just right on this brisk day!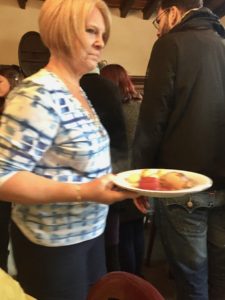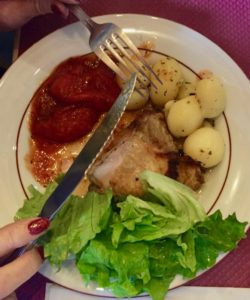 All in all, lots of fun and another great way to meet new people.
Tours Anytime of Year
There are wine tours in and around Paris at all times of year even if the next season of grapes aren't growing yet.
Click the link to find this tour here!
And if you are interested in other wine and food tours you can find them by clicking on this link.
Here are some Top Favourites that combine Walking, Food and Wine;
Montmartre Food and Wine Tour — an exclusive Montmartre food and wine tour, with up to ten gastronomy stops.
Marais District Food Walking Tour with Wine and Cheese Tastings — Stop at up to 10 shops and other food vendors to sample wines, cheeses, meats, bread, jam, chocolate, and macarons
Guided Visit and Wine Tasting in a Royal Wine Cellar in Paris — This guided wine tasting, held in an 18th-century cellar in central Paris, will teach you all about wine production — and give you plenty of chances to taste the good stuff as you go.
Disclosure Policy: This site uses affiliate links which may generate small commissions based on clicks and purchases. Any products that I giveaway are personally purchased by me unless otherwise specified. I write all the content on my site unless otherwise specified. And I respect the privacy of my subscribers and do not share their information with any other party or organization.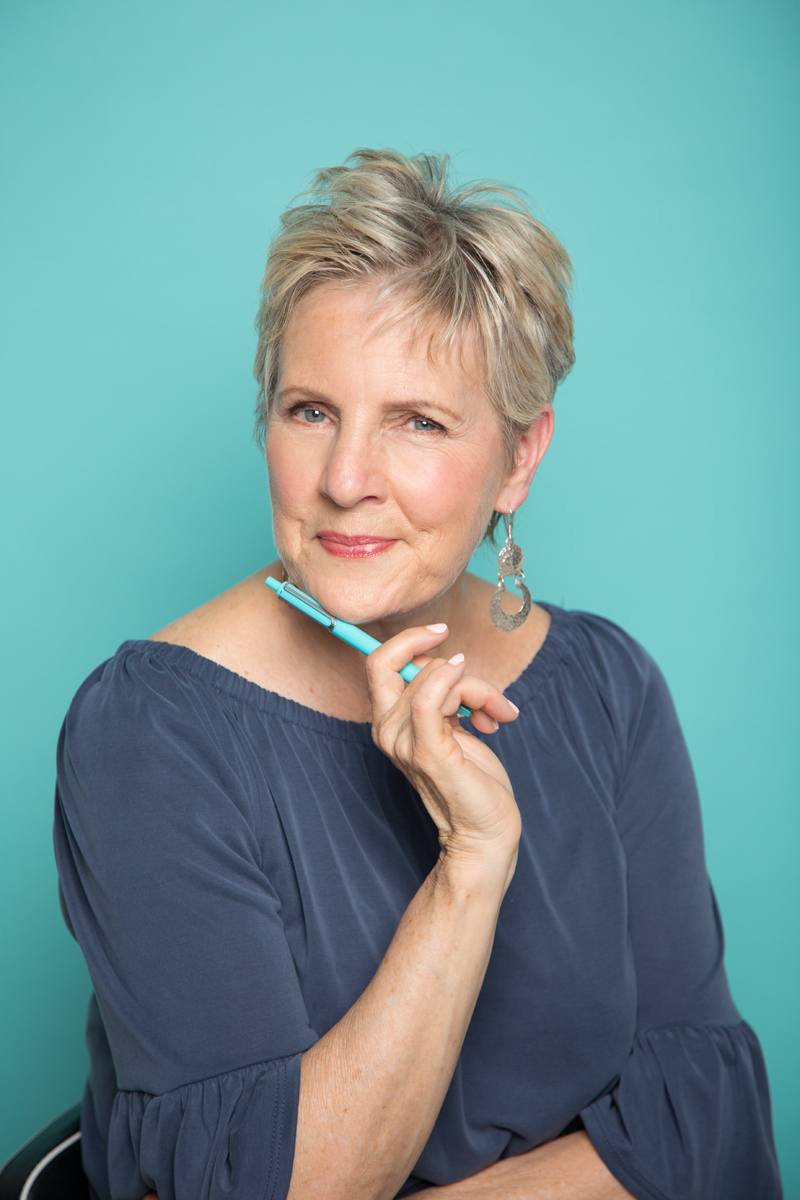 Diana Bishop the founder of The Success Story Program and A Woman of a Certain Age in Paris as well as a well-known correspondent with over 25 years working for CTV, CBC News, and NBC News. She loves travel, writing, and all things Parisienne.